Guidelines for video production
Last changed: 27 June 2023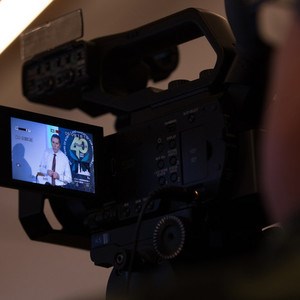 It is important that material published in SLU's name has a reasonable quality level and is consistently profiled – it must be clear that SLU is the sender. If not, our credibility is weakened and the viewer can be confused as to who actually produced the video. There are a number requirements for external and internal video material.
For SLU videos with an external target group
Ensure high picture quality. Full HD 1920x1080 px is recommended.
Ensure acceptable audio quality.
More on how to film.
Make sure you have permission to film the people in the video and to use the material for the current purpose.
More on legal requirements.
Ensure that the material used is not copyright protected (film, images, music, artwork depictions). Alternatively, get permission from the originator to use their material for the intended purpose.
More on

legal requirements

.
Ensure that it is clear that SLU is the sender.
More on what this involves can be found on the page on

video graphics

.
Make sure that the video material meets the accessibility requirements for public authorities (Web Content Accessibility Guidelines, WCAG, 2.0). Among other things, they state that subtitles (in accordance with the university's

language policy

) must be offered.
More on the Web Content Accessibility Guidelines.
Do not risk damaging the SLU brand by exposing other brands or occurrences too much.
More on SLU's

image and video policy

.
SLU videos with an internal target group
Videos with a broad internal target group and publication on SLU's internal and external web pages must meet the requirements on the list above. If an internal target group is smaller and the material is not published on our webs, quality and the SLU profile are not as important. However, the legal requirements still apply.
Before a video is made
Ask yourselves the following questions:
Who is the video made for? An eternal or internal target group?
What do you want the viewer to think/feel/do after they see your video?
How do you achieve this?
Video length – how long will the viewer watch? This can differ depending on the type of video (trailer, commercial, interview, etc.) and target group.
Should the material be divided into shorter episodes? Do you have something to gain by making a short version and linking to a longer version for those who are interested?
Post-production
Can the video be viewed without explanation?
Does the viewer understand what they need to, or does the video need clarifying text and/or a narrator? In many cases, this can heighten the video and communicate the content more efficiently.
Meet the accessibility requirements
The guidelines for public sector web pages affect those who want to publish videos on the SLU webs.
More on accessibility requirements for image or video production.
Guidelines for consistent subtitles
Subtitling moving images can be a challenge: when the text flows, no one notices it – but if something stands out, reading can become halted.
Here is a guide of what you should consider when subtitling.
Put the subtitles in a separate file
It is best to use subtitle functions that separate the text from the video (both Adobe Premiere and Youtube have these functions). The text strips can then be activated and deactivated and be read by add-ins. When text strips are merged with the video material, they cannot be read and are instead part of the picture.

Another advantage of separate subtitles is that the video can be translated into several languages without having to show them all simultaneously.
If the text amount is greater, use two lines.
Try chunking the text so that it is comfortable to read.
Use a maximum of 40 characters per line. Two-line segments must be shown for about 5 seconds.
The information below applies to subtitling using professional video editing programs where the text format can be controlled.
The text should be left-aligned and the text block centred horisontally.
Font: Trebuchet MS Regular (included in Adobe Premiere Pro)
Text size: 70 per cent
A black text background makes it more legible
(black, 40–50 per cent opacity).
Use an adjusted miniature (Youtube) or a cover (Instagram)
In most cases, you can decide the frame that will be shown before the video is played. We recommend that you select an image that represents the video content – not the SLU logo, but a frame that more accurately reflects the main content of the video.
Storage
Where you publish your video will depend on its target audience and how you intend to use and distribute it. Quality requirements will also vary depending on the target group and publication site.
Youtube
Content posted on Youtube must raise awareness about our university, strengthen our reputation, be relevant and balanced, and demonstrate the scope of SLU. The benefit of Youtube is that it is the largest platform, making it easy for people to find our videos – even if they are unfamiliar with SLU. Content published on Youtube can reach a wide audience, although one disadvantage is that viewers must accept cookies to be able to watch it. If the viewer has not accepted cookies, clips embedded on the SLU website will appear as black boxes.
The SLU Youtube channel only publishes quality-assured content aimed at a broad external target audience. We recommend starting a new Youtube channel for content aimed at smaller external target groups.
SLU Play
The benefit of SLU Play is that we have control over the appearance and frames. We are able to display a multifaceted display window without competition from other senders. To achieve this, the channel needs substantial content and to demonstrate the scope of SLU. Viewers do not need to accept cookies to use SLU Play. Episerver has a video block that can be used to frame SLU Play videos on the university's website. The content can be inserted without being listed, and we can restrict access by requiring viewers to log in. Individual SLU sub-channels can be created. Use SLU Play for purely internal content.
Read more about using SLU Play
Facebook, Instagram, Linkedin
If you want to spread video content on social media such as Facebook, Instagram and Linkedin, we recommend that you publish the material directly on these platforms. Many social media channels give preference to their own video content rather than external links.
What should be published where?
Quality-assured films with a broad external target group:
SLU's official Youtube channel and SLU Play (it is a good idea to add your video to suitable sub-galleries under Study at SLU and Discover Science).
Quality-assured films with a narrow external target group:
Youtube (own channel) and SLU Play (it is a good idea to add your video to suitable sub-galleries under Discover Science).
Films for an internal target audience:
SLU Play. The material can be added to its own sub-channel, unlisted, or require logging in to watch.
---
Contact
---
Links