Branded work clothing
Last changed: 14 August 2023
SLU's work clothes must always wear the university logo and be printed in accordance with our visual identity. Sustainable clothes and sustainable printing helps strengthen our brand.
The logo must be visible in at least one place on the clothing item. The logo can be placed anywhere. Always keep SLU's visual identity in mind when selecting colours and using the SLU logo.
Print or embroidery
The SLU logo is printed or embroidered on the garment. There are three logo sizes:
Small logo: 20x20 mm
Medium logo: 55x55 mm
Large logo: 150x150 mm
Tags
Marking with separate tag, weaved with an embroidered logo which is either sewn into the clothes or applied using heat transfer.
Additional prints
In addition to the SLU logo, a garment can also be marked with additional prints or embroidery in the following way:
Logo and organisation affiliation
When the SLU logo is complemented with the name of an organisation, e.g. the name of a unit, select the name most relevant for the target group. Contact the Division of Communication at SLU for vectorised printing material.

Logo separate from personalised print
If you want a larger print in order for it to be seen more clearly, the SLU logo should be placed separately on the garment. For example: "Technician" in large print on the back of a jacket and the smaller SLU logo on the breast pocket. If your organisational unit has its own logo, it should always be separated from the SLU logo. The personalised print may never be red or green, these colours can only be used for the SLU logo.
Personal names do not count as part of an organisation. Therefore, they are separate from the SLU logo. You can also use a name badge.
Regardless of the option chosen, the SLU logo must always be printed on the garment.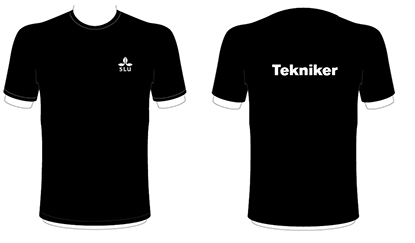 SLU's visual identity
SLU's visual identity applies to both promotional and workwear. Always keep this in mind when selecting colours and when using the SLU logo.
You may only use the coloured version of the logo (red-green) if the background is white. If the product is white, use the coloured logo. If the product is in another colour, use the black, grey or white logo.
Free space
The logo should have free space around it. Do not place other objects, such as images or text, within the free space.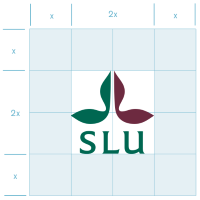 The space around the logo is half the logo's height or width (x) in all directions.
---
Contact
Brand Management and Communication Platforms Unit
Division of Communication
---
Links
See the Swedish version of this page for more information about tax free work clothing, Skatteverkets krav för skattefria arbetskläder.