Our image collages
Last changed: 08 November 2021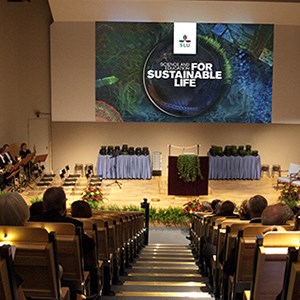 In addition to pictures of our activities, we have unique image collages that make our communications stand out and create recognition. The image collages are intended to serve as an overall framing and to give a modern, creative feeling. As far as possible, the details in the collages should be authentic photos from our activities.
The image collages do not replace factual images. They should be used in, for example, an overall presentation of SLU. The collages are meant to be used as an overall framework and can be used for print media, as large background pictures on the web start page, as an introduction or ending in Powerpoint presentations and so on. We can also highlight parts of the collages for use in different ways to create recognition.
Versions of the image collages
There are some versions of the image collages designed for specific purposes and levels of operations. Choose the collage or shot that best suits your part of the organisation.
Overall image collage


Organisation-specific image collages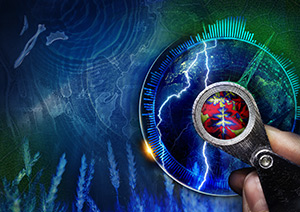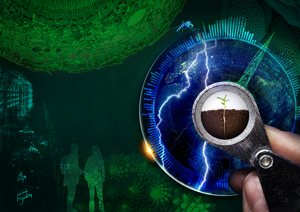 Authentic details
The details in the collages are in most cases authentic pictures from different SLU activities. Here are some examples:

Sections of the collages
By using sections of the image collages, we can enhance SLU's expression in various ways and tie our communications together.
The whole image
Use the whole image collage to show the university's breadth and entirety. Used for example on web pages, cover pages and in trade fair materials, where the collage can be the message-bearer.
Decor image
Use a small section of the collage to create various types of decoration. Works well with short blocks of text.
Detail
Use a zoomed-in detail of the collage to create a pattern. Ideal for use in a smaller space, in addition to photos of activities.
Texture with colour
Use one of the palette colours on a zoomed-in detail or pattern to create a more uniform background or better legibility when you want to have writing on the collage. This is an example with the colour chlorophyll on a textured background.
Tip: You can download ready-made textured colour blocks in the SLU media bank under the heading Promotional.
Facts:
The image collages are designed by SLU's image editor Jenny Svennås-Gillner.
---
Contact
Brand Management and Communication Platforms Unit
Division of Communication
---
Where to find the collages
The collages are continually changed and improved. The latest versions are available in the SLU media bank at www.slu.se/mediabank
If you wish to use any of these pictures but are unsure if they are suitable for your needs, please contact the picture editor at bild@slu.se.