MVM Building
In this building, nearly 300 people work at three departments; Energy and Technology, Soil and Environment, and Aquatic Sciences and Assessment with research and education.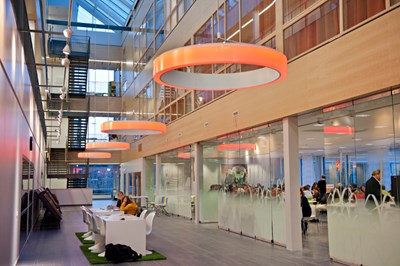 Our activities
The scientists and researchers work in fields such as environmental changes in soil and water, the understanding of the biological, physical and chemical processes in soil and water systems, optimization of food-, bioenergy and recycling systems as well as method development in agriculture and forestry.
At the accredited laboratories and field operations the staff work with the sampling and analysis of soil and water samples. Some of the compiled analysis results are reported in the context of the activity environmental monitoring (fortlöpande miljöanalys); other results are used within the research.
In the building we also conduct education. For example, there are five training labs, a lecture hall and three computer labs. The Departments have extensive involvement in courses for landscape architects, civil engineers within environment and water, civil engineers within energy systems, agronomy soil / plant, Biology and Environmental Science, Soil and Water Management and EnvEuro.
Departments in the MVM house
Loading…