The caretaker
Last changed: 01 November 2021
On floor 3 you will find the caretaker of the MVM building, Ronald Rodríguez.
What is the caretaker responsible for?
Postal mail (delivery and collecting; registered letters) and parcels
Receiving of goods

Occasional

deliveries, bring correct customer no#

Lamination

Bindings (price approx. 3,50/binding; higher price for broader binder)

Fragile goods
Card holders to key cards

Replacing

lamps and

fluorescent lamps

Emptying of

waste paper

containers

Filling of

copy paper (

No service

of copiers

!)

Checking and replacing the

gas

(argon

)

Storage

of hazardous waste and

ordering of

removal

Storage of

electronic waste

(Not

computers!

)

Refilling

of first aid

equipment

Ordering

of

coffee,

tea etc

to coffee

machines

Cleaning the

whiteboards

in the

meeting rooms

Distribution of

fruit

Moving of furniture (minor work)
---
You are welcome to...
pump your bicycle tires
blow clean your equipment
shower your equipment
dry your equipment in the drying cupboard
---
Postal routines (approx. hours):
9 am: Collecting of postal mail
10 am: Delivering of posta mail
10 - 11 am : Delivering of parcels
2 pm: Collecting of postal mail
Spara
Spara
Spara
One important responsibility is the hazardous waste. There is a special room where this is collected.

This is where the hazardous waste is kept before it is transported away. (Photo: Ulrika Hurtig)
The hazardous waste, chemical waste and electronical waste (except computer equipment), for instance, is collected in this room.

Hasse is inside the room for hazardous waste. The huge wooden box in the front is where you throw away electronicwaste. (Photo: Ulrika Hurtig)
Every department has it's own plastic boxes for hazardous waste. You must also write down what you throw away on a list, so that the persons collecting the waste know how to handle it.

The different Departments have their own boxes for hazardous waste. Don't forget to write down what you throw away! (Photo: Ulrika Hurtig)
Just outside the room for hazardous waste there is compressed air for blow cleaning your equipment or pumping your bicycle tires. According to Ronald you can also pump car tires. There is a shower for wet cleaning your field equipment, like shovels and boots. In the heating cupboard you can dry your wet boots and clothes.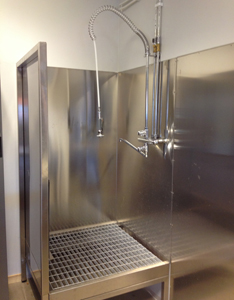 Shower for field equipment. (Photo: Ulrika Hurtig)
At the caretaker's you'll also find the goods reception. Here the caretakers receive goods, check the goods for damages, sign for the goods and make sure that it is delivered to the correct recipiant in the building.
---
Contact
---
More information