Lunchroom
Last changed: 04 April 2018
In the MVM building the staff has it's own lunchroom - as well as the students have theirs!
The staff lunchroom is situated on the groundfloor of the MVM buildning. There is plenty of space where you can heat your lunch, eat your lunch, drink coffee or tea and get together with you collegues during breaks. You can also book the lunchroom (Bottenhavet) and the light hall for meetings during certain hours.

Here some of the skilled cleaners of the building have taken a short but much needed break. (Photo: Ulrika Hurtig)
There are four coffeemachines with different kinds of coffee, hot chocolate and tea in the lunchroom. You can wash up the lunch box you brought from home.

Four coffeemachines. (Photo: Ulrika Hurtig)
There are several fridges and many microwave ovens so you can keep your lunch box cool during the morning and heat your food for lunch.

Plenty of space for storing your lunch box and heating it's content! (Photo: Ulrika Hurtig)
There are various containers for recycling in the lunchroom.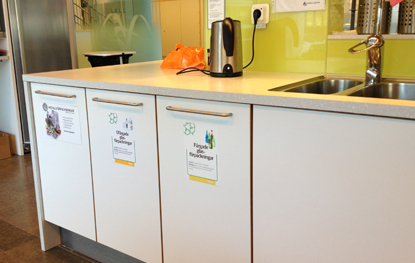 We recycle stuff in the lunchroom! (Photo: Ulrika Hurtig)
You are welcome to borrow glass, cups and mugs, plates and bowls as well as cutlery. You put your dirty dishes into one of the dishwashers after your meal. The dishwashers are run by the cleaners. The cleaners are also responsible for the management of the coffee machines in the lunchrooms and on the different floors.

The dishwasher is doing it's job! (Photo: Ulrika Hurtig)
Spara
---
Contact
---
More information