About the staff web
Last changed: 17 August 2021
The staff web is for all SLU employees and supports you in your work.
Here, you can find different functions and systems as well as information necessary for all staff members.
It is a good idea to set the start page of the staff web web as the home page in your browser. That way, you can read the internal news posted on the staff web regularly. As an SLU employee, you need to stay updated on internal news.
Staff web start page
The start page displays internal news that you should read regularly to keep track of what happens at the university. Coming events events as well as teasers for more long-term or strategically important events are also posted here.
Tools and systems compiles the most important and most used systems.
In order to have access to these systems, you need to log in. The login button can be found on the start page:

When you have selected a system, you do not immediately get access to it. Instead, you go to an intermediate page, a so-called tool page. One of the tool page functions is to enable you as visitor to authorise your account in order to reduce the number of times you need to log in. Learn more under practical tips. On the tool page, you can also see contact information, links to further descriptions and system/tool information.
Under the header Support, you can find contact information for the most important, joint support functions. There is also a link to operation details; IT adds both planned and acute measures.
Under Tools and systems and Support, there are shortcut buttons to the most used systems. There is also a shortcut to a list of restaurants and lunch menus, as well as a page with phone numbers and contact details in case of a crisis.
In the footer, there is a collection of links to selected pages that many visit – an alternate way of finding pages. There is also other information such as SLU's registration number, invoice address, websites and crisis information.
Main headers on the staff web
My employment
Under My employment, there is information for all SLU employees, both new and prospective. For example, there is short information about salary, working hours, sickness leave, professional development, business travel, unions, etc. Under Support & services/Human resources, there is also more specific information.
Subpages can be found in the mega meny which expands when you click on the header on the horizontal menu.
Support and service
Under Support and service, you can find most of the staff web pages. Click on the mega menu to get a content overview. Here, you can find administrative support compiled under various subject headers. The content is divided according to subject, not organisational units.
Organisation and governance
Under Organisation and governance, you can find information regarding how the university is governed and organised. You will also find links to SLU's various organisational operations.
Targeted info
Under Targeted info, there is information not meant for all employees; instead, it is adapted and aimed at specific groups.
Parallel language use, not bilingual
SLU operations use both Swedish and English in parallel. However, this does not mean that everything must be available in both languages.
Information on what must be translated can be found here.
In relation to the staff web, this means that pages with all SLU staff members as the target group must be available in both Swedish and English. As a rule, information regarding SLU's administrative procedures and processes are not aimed at all employees. Therefore, they do not need to be translated. However, the target group and purpose ultimately decide whether a text should be translated or not.
An open intranet
SLU's internal staff web is not closed off to the public; in fact, it is also open to external visitors.
The reason for this is that SLU operations are public, and very little staff web information needs to be kept confidential. Many other universities and higher education institutions do the same thing. Naturally, some pages or services require login, e.g. protocols from various vice-chancellor, boards and council decision meetings, or certain security pages. Webbredaktionen@slu.se can help with this.
Previously, SLU's intranet was locked, which often became a source of complication and difficulty for many employees. For example, links could not be shared between external and internal pages. Other information could also not be shared between colleagues.
If a department/equivalent needs information that is limited to a certain group, it is possible to upload a Sharepoint page where you can adjust the authorisation settings. In those cases, it-stod@slu.se can help.
TIP: Reduce your number of logins
You can personally reduce the number of times you have to log in
Some of our systems/tools uses a login that leads to this dialog box: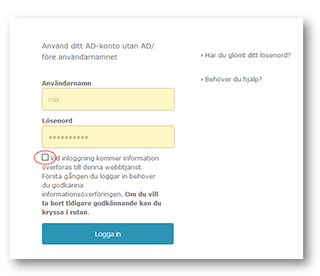 Here, you need to leave the marked box empty. Otherwise, the following dialog box will appear every time you wish to use the tool: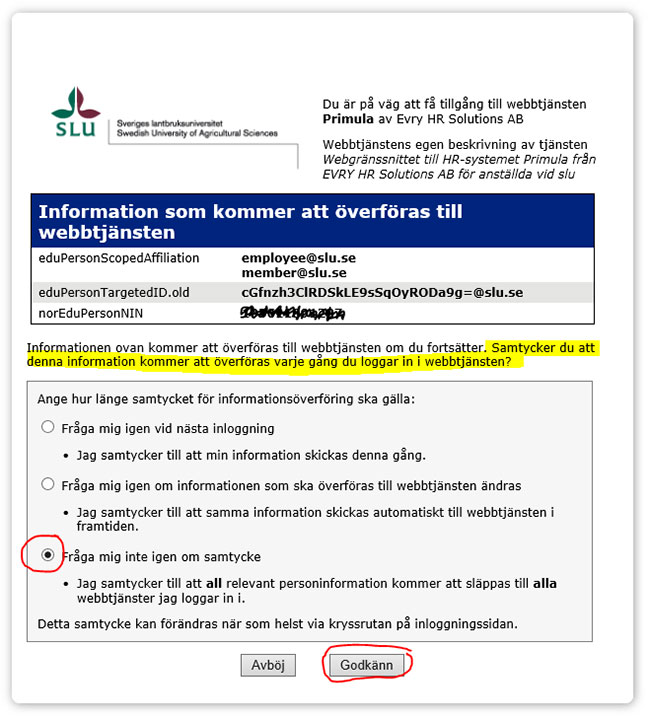 If you check the "Fråga mig inte igen om samtycke" (do not ask for my consent again) box, the question will not appear again, and the login process will run smoother in the future.
TIP: Find your most visited pages easier
You can create shortcuts to find your must visited pages
If you visits some websites often but find them difficult to reach, add them as tabs in your browser (Chrome, Firefox, Edge, Explorer). That way, they will always appear when you open your browser.
You can also add them as bookmarks in your browser, if you find that easier.
TIP: Is the information about you in the staff description wrong?
When e.g. searching for staff members, the information in question has not been added to a web page. Instead, it comes from SLU's staff database, Idis. In order to correct a staff presentation text, add or change a picture, you must contact the responsible directory administrator from your operation.
Directory administrators can be found here.
---
Contact