SLU in colour
Last changed: 07 August 2023
SLU asks the major questions about animals, nature, and life as we know it. This collage depicts the diversity of our work and our shared focus on creating a sustainable, dynamic and better world.
Here you will find the sustainable city; the living landscape and the much-debated forest. The phylogenetic tree showing the planet's species; fragrant garden flowers; and an apple from the orchard. Veterinary science, with the best interests of animals and humans in mind; exploratory laboratories; and environmental monitoring and assessment.
Perspectives on both a global and molecular scale; life above and under water. Agenda 2030 and the sustainable development goals to which SLU contributes. Look closely and you will see even more.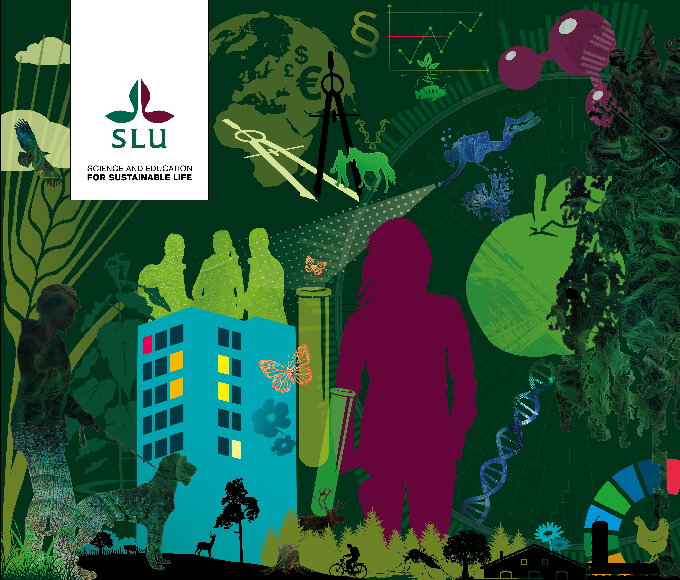 Authentic illustrations
These pictures are just some of the 140 illustrations SLU has created to help spread the word about what we do and how we work. They build upon authentic images, and their designs closely link to the university as a whole. The illustrations were originally created by Fredrik Saarkoppel but have changed over the years.
A tree containing laser data
Some illustrations contain sections from the SLU profile collage.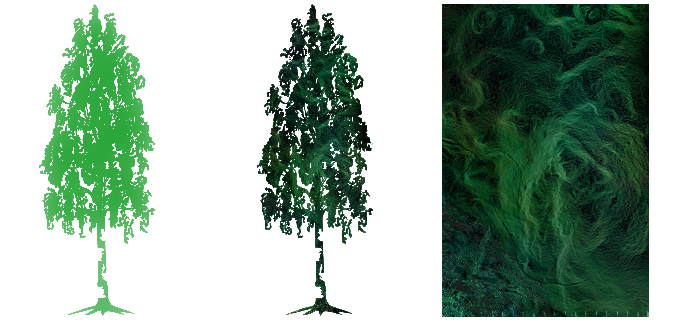 To the right on the wall-image, we see a beech tree containing laser data from forestry remote sensing.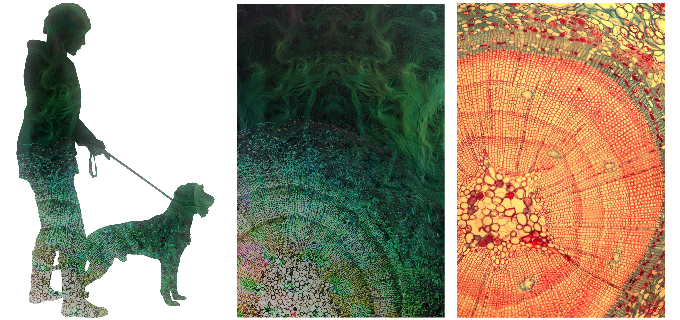 Too the left on the wall-image we see the dog and her owner filled with a cross-section of a small pine tree branch as seen through a microscope. This is an example of material used within education in plant biology at the Faculty of Landscape Architecture, Horticulture and Crop Production Science at SLU in Alnarp.
Non-figurative logotype
The SLU logo can be found in the top left-hand corner. It was designed by royal calligrapher Lars Laurentii and came into use on 1 January 1996. The symbol is non-figurative and can be interpreted in many ways.

Colours from nature and blood
The colours of the SLU logo represent the green of nature and the red of the blood that courses through our veins. The logo is used together with a broad spectrum of colours that accentuate it. While the greens dominate, we also see red accents and hints of aquatic blue.
Facts:
The collage was created by the SLU Division of Communications.
Art Director: Maria Capandegui Widén.
---
Contact
Brand Management and Communication Platforms Unit
Division of Communication