Program Day 1: 19 augusti
Last changed: 30 July 2021
Location: zoom
Links to the seminars will be sent out to all registered on August 17.
13.00–13.10
Welcome! (In Swedish)
Deputy vice chancellor Karin Holmgren
13.10–13.20
Presentation (In Swedish)
13.20–14.20
Oral exams - improved learning and cost-effectiveness (In Swedish)
Oral exams have a bad reputation regarding the time it takes for teachers to use the assessment method. Based on several years of experience, we will challenge this assumption and suggest ways to implement oral exams effectively. In particular, we consider the student learning perspective and cost-effectiveness from a teaching perspective.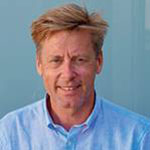 Jakob Kuttenkeuler, Professor of Naval Architecture. His main research interests are in high-speed craft design, fluid-structure interaction and lightweight solutions.

Kristina Edström, Associate Professor in Engineering Education Development at KTH Royal Institute of Technology.
14.20–14.40
14.45–16.00
Parallel thematic sessions
Day 1: A The importance of conversation in teaching (In Swedish)
In Swedish
Good communication, when does it occur? How do we as teachers create conditions for exchange and discussion in our teaching? In this session, we will focus on what high-quality dialogue might entail and what the positive consequences might be for students' learning.
Medverkande: Jan Stockfors, pedagogisk utvecklare, Linn Areskoug, pedagogisk utvecklare och Åsa Bensch, pedagogisk utvecklare (alla EPU)
Day 1: B Online assessment with Inspera (In Swedish)
In Swedish
Come and get a sneak peek at Inspera, the new digital examination system at SLU. The whole process of writing questions, completing exams, designing assessment, and giving feedback is combined in this online assessment system. The Inspera specialists, joined by a number of teachers who have tried the system at SLU, share their experiences thus far.
Medverkande: Anna Hartman, pedagogisk utvecklare (EPU), Minha Park, pedagogisk utvecklare (EPU), Henrik Viberg, pedagogisk utvecklare (EPU) och Ida Håkansson, systemadministratör (System och Media).
Gäster:
Susanna Sternberg Lewin, professor, Inst. för biomedicin och veterinär folkhälsovetenskap (BVF), Enheten för bakteriologi och livsmedelssäkerhet, SLU.
Carl Ekstrand, univ.lektor, Inst. för biomedicin och veterinär folkhälsovetenskap (BVF), Enheten för farmakologi och toxikologi, SLU.
Day 1: C The transition to distance education from a Nordic perspective - Student communication. (In English)
In order to draw lessons learned from the transition to distance education, we will hold a panel discussion together with teachers from Denmark, Finland and Iceland. We intend to discuss our varying experiences in relation to the goals and strategies for communication with students, approaches in relation to student groups, and lessons to take away from this period.
With Petra Thorpert (excellent lärare), Anna Maria Palsdottir & Emma Butler, Department of landscape architecture, planning and management, SLU
Panel with guest teachers:
Richard Hare, University of Copenhagen, Denmark
Helena Guttormsdóttir, Agricultural University of Iceland, Iceland
Leena Linden, University of Helsinki, Finland.
Day 1: D Innovation and entrepreneurship in education (In Swedish)
In Swedish
SLU Future Food invites you to a mini-workshop on how we can bring more innovation and entrepreneurship into education, looking at methods and tools to be able to address societal challenges. Örebro University's "Student Impact Lab" is the inspiration for this session where you will meet inspiring guests, discuss resources, course content, and pedagogical methods to strengthen the competencies in the area of innovation and entrepreneurship.
With Fredrik Fernqvist, Department of People and Society, SLU & Annsofie Walhström, Future Food, SLU
Guests:
Mattias Dyrvik, Student Impact Lab, Örebro Universitet
Philip Gratell & Erik Tosterud, Drivhuset Uppsala
Niclas Öberg & Niklas Hjelm, Green Innovation Park/Venture Lab, SLU
Hanna Astner (excellent lärare), Ekonomiska Institutionen, SLU
Erik Melin, Ekonomiska institutionen, SLU
Day 1: E To train for wellbeing. The best of two worlds: distance education and campus-based teaching (In Swedish)
In Swedish
Stress and a decline in mental health are issues that have been raised not only by students, but also by professional veterinarians. In the new curriculum for the veterinary program, we target these issues through a focus on professional approaches that include the student social environment and the future professional life. During the pandemic, we have had to implement a new module with this theme and want to share and discuss our thoughts, regarding both the content itself and the implementation from planned campus teaching to the digital space.
16.05–16.25
Virtual tour with teachers at our various places of education (In Swedish)
16.30–17.00
Virtual mingle with snacks
---
Contact