Education for teachers and supervisors
Last changed: 06 April 2023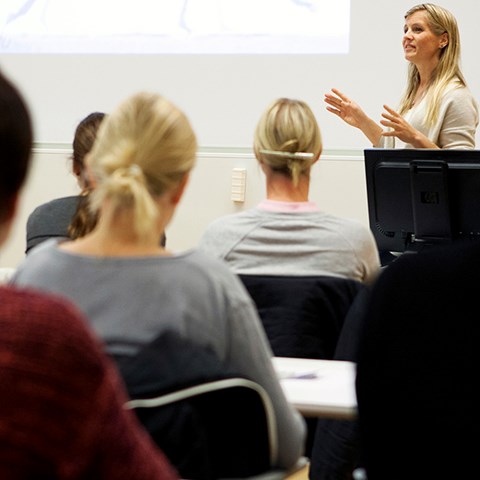 Every semester, EPU offers higher education pedagogical courses for teachers and supervisors at SLU. We offer everything from basic courses in how to teach, to more advanced courses in research supervision. We also have recurring lunch seminars and colloquia. Please, keep in mind that the prerequisite for our courses is the 'Teaching in higher education, basic course'.
Course offerings
In order for you to plan, you are able to search among our listed courses at least one year in advance. If you have started a course at EPU without completing it, you are allowed to return and finish it within two years. Contact the EPU to set up a plan.
Take a look at our range of courses and workshops in order to find something that suits you. You are always welcome to suggest ideas and present needs for a new course.
How much do EPU courses cost?
For those of you who are employed at SLU, our courses cost 1300 / course week. However, our lunches, two-hours-workshops and colloquia are free.
Price excluding course literature:
Workshop, 2-3 days: SEK 1,000
Course, 1 week: SEK 1,300
Course, 2 weeks: SEK 2,600
Course, 3 weeks: SEK 3,900
University pedagogical courses in the docent application?
To become a docent, you need 10 weeks of training in higher education pedagogy or equivalent. You need a Teaching in Higher education, basic course (3 weeks), other teachers' training courses (collect a total of 4 weeks) and the Doctoral supervision course from SLU (3 weeks). University courses in teaching in higher education from other units of development in higher education pedagogy at Swedish universities, can be used for the application. However, if you have a foreign pedagogical training for university teachers, you usually need to do complementary assignments. Contact us to find out more if it is possible for you to evaluate your prior courses up to 7 weeks. Please, note that you always need to take the doctoral supervision course (3 weeks) at SLU, according to SLU's guidelines, to fulfill the requirements.
Here you can read more about how to apply for a docent (associate professor) at SLU: https://internt.slu.se/en/my-employment/professional-development/academic-career1/appointment-of-docent-readerassociate-professor/
FAQ
In our FAQ, we answer the most common questions about the college pedagogical activities at SLU.
---
Contact