Mistra
Last changed: 29 September 2022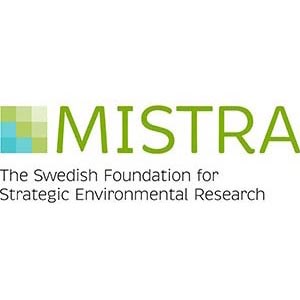 Mistra – The Swedish Foundation for Strategic Environmental Research
Mistra is an independent public funder of research that supports research of strategic relevance for a good living environment and sustainable development of the society, with the primary aim of solving environmental problems. By closely monitoring the challenges in the surrounding society, Mistra launches two to four annual calls for programs in relevant thematic areas, to stimulate the development of new products, services and methods with a potential of solving major environmental challenges. Mistra supports the development of new research environments hosted by Swedish universities and institutes, where researchers work in close collaboration with other sectors, including companies, industry, authorities and public stakeholders. In total, Mistra distributes around 200 million SEK to Swedish research each year, commonly targeting the following thematic areas;
Climate change - geopolitics, including migration and integration
Pathways to change towards a circular, resource-efficient and carbon-neutral economy
Facilitate sustainable infrastructure and collaborative laws, instruments and their application
Sustainable use of biological resources
Strategic environmental perspectives on AI and Big Data
Health, equality, learning and prosperity in a sustainable social development
Behavior and choices for sustainable development
SLU is currently involved in several Mistra programmes, including Mistra Digital Forest, Mistra Environmental Communication and Mistra Food Futures.
Types of funding
Mistra's research programmes
Mistra primarily funds large interdisciplinary, multi-sectoral research programmes in the range of 60-100 million SEK over four years, aimed at solving key environmental problems and supporting Sweden's future competitiveness. In most cases, Mistra programs have a duration of four years, but a majority of these are prolonged for four additional years, if evaluated as successful. The focus areas prioritized by Mistra is selected through a process that includes dialogue with key actors in environmental issues.
In general, Mistra programmes require co-funding by the involved partners and require collaboration between academic researchers and relevant stakeholders and end-users, such as companies, industry, authorities, non-governmental organizations (NGOs) and the general public. The involved partners are further expected to co-fund the program with an amount in the order of 15 %.
Co-funding
Mistra normally demands that an amount corresponding to at least 15% of the funding obtained from Mistra is matched by co-funding from other sources. At present, Mistra is prioritised by SLU and hence all co-funding of Mistra projects coordinated by SLU are covered centrally. Please note that you need to submit a pre-application for co-funding to medfinansiering@slu.se, latest two weeks before the deadline for the call.
How to apply
Mistra announces two to four calls for new research programs annually, which continuously are published on Mistras homepage. Mistra may apply 1-stage or 2-stage application procedures, which is announced separately for each call.
Mistra does not employ any specific application portal or template for their calls. Hence, each application should be designed and submitted according to the instructions given in the call text. In most cases, Mistra applications are submitted via e-mail as a PDF.
If you are planning to coordinate an application for a Mistra research programme, it is of utmost importance that you inform your head of department and faculty research officer, since SLU will be the main applicant of your proposal and also cover all necessary co-funding.
Support with your application
If you are planning to take lead in a Mistra research programme application, please contact the research coordinators at Grants Office for support with your proposal. If you have general questions about applying to Mistra, please contact Grants Office at grantsoffice@slu.se.
Budget
Please contact the Financial Officer/Administrator at your department for support with making the budget for your Mistra research programme, using the SLU project calculator.
Mistra applies a rule that OH costs (including indirect costs and facility costs) can be covered up to a fixed amount per full time equivalent worker, annually. For currently prevailing amounts, please consult "Mistra's financial guidelines" via the link below. In SLU´s project calculator, the total amount for indirect costs and facilities must be recalculated as a percentage, according to Mistra's rules, to get a correct picture of the total co-funding requirements at SLU.
Managing a project
Once a research program has been granted by the Mistra board, a process is initiated where Mistra, together with the program host, draws up a program plan outlining the budget, planned scientific deliverables and communication activities for the programme. At the same time, a program board and program management group are also appointed, assigned to direct, manage and follow-up the programme, based on the program plan.
All Mistra programs must submit a budget and financial report to Mistra every year. In addition, the program plan must also be updated and approved by Mistra annually.
---
Contact
---
Links