Environmental work S faculty
Last changed: 22 September 2023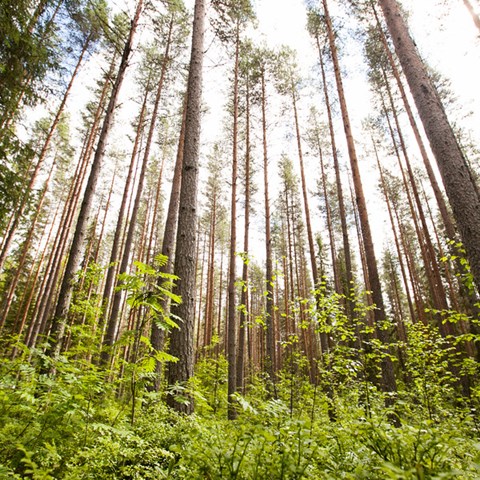 Here you can read more about the local environmental management work being conducted by the S faculty.
The Faculty of Forest Sciences at SLU is spread all over Sweden. Six of the departments and the faculty office are placed in Umeå. Two departments are placed in Uppsala, and one in Alnarp. Skogsmästarskolan in Skinnskatteberg and the Unit for Field-based Forest Research which has manned field stations in Vindeln, Asa, Siljansfors and Tönnersjöheden and are also involved in the Faculty's environmental work. The three faculty joint departments in Uppsala are involved in the environmental work of the NJ faculty.
More details about SLU's comprehensive environmental work are available under Administrative support – environment. Here you can access SLU's Environmental Handbook that contains information about the procedures and other documents that apply to all activities and organisations at the university. You can also read SLU's overall environmental objectives and follow-ups and a wealth of other interesting information.
Environmental group
Environmental coordinators
Environmental representatives
Giuseppe de Simon, Unit for Field-based Forest Research
Michael Finell, Dept of Forest Biomaterials and Technology (BTC, Röbäcksdalen)
Carina Jonsson, Dept of Forest Biomaterials and Technology (campus Umeå)
Nasko Terziev, Dept of Forest Biomaterials and Technology (campus Ultuna)
Margareta Elfving, Dept of Forest Ecology and Management
Maria Ahnlund, Dept of Forest Genetics and Plant Physiology
Ingela Sandström, Dept of Forest Genetics and Plant Physiology
Dianne Wästerlund, Dept of Forest Resource Management
Camilla Widmark, Dept of Forest Economics (campus Umeå)
Torbjörn Andersson, Dept of Forest Economics (campus Ultuna)
Börje Börjesson, Skogsmästarskolan
Per-Ola Hedvall, Southern Swedish Forest Research Centre
Sonya Juthberg, Dept of Wildlife, Fish and Environmental Studies
Pernilla Christensen, Faculty of Forest Sciences
Per Olofsson, Faculty office
Report enviromental matters
If you have any suggestions about how to reduce SLU's environmental impact – or if you wish to draw attention to something that does not conform to SLU's procedures – you can submit a report via SLU's reporting system, IA.
Non-conformities and improvement proposals are important in order to identify what does not work or what can be improved within the operation to fulfil the continual improvement requirement in ISO 14001. Non-conformities are requirements that have not been fulfilled. This applies to requirements at all levels within the operation, i.e. instructions, objectives and policy. For example, a non-conformity can be that an instruction is not followed or that employees do not work according to an adopted policy.
NB: When reporting an environment-related issue, select Environment in under the What? drop-down menu. A second drop-down menu will appear below: Underhändelsetyp [Event] where you can select either Avvikelse [Non-conformity] or Förbättringsförslag [Improvement proposal].
Facts:
---
Contact
---
Links