Plans
Last changed: 10 February 2022
Here you can find some different plans of Uppsala BioCenter.
Please keep in mind that alterations may have been made since the plans were drawn! If something is unclear you may contact the intendent (018) 671244.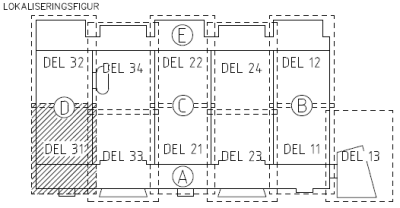 The figure gives an overview of how the plans of the interior design are divided.


Plans giving an overview

Level 1 (pdf) - basement

Level 2 (pdf) - ground level, Teaching facilities, Department of Chemistry

Level 3 (pdf) - Departments of Food Science and Forest Mycology and Pathology

Level 4 (pdf) - Departments of Microbiology and Plant Biology and Forest Genetics

Level 5 (pdf) - Offices


Plantations

Inner yard, west (pdf)

Inner yard, east (pdf)

Along the southern facade (pdf)

Along the northern facade (pdf)
---
Contact
---
Interior design

Interior design

Level 1
Del 11 – AH, FYT (pdf)
Del 12 - AH, FYT (pdf)
Del 21 - AH, FYT (pdf)
Del 22 - AH, FYT (pdf)
Del 23 - AH, GEM, MIK (pdf)
Del 24 - AH, FYT, BÖL (pdf)
Del 31 - AH, GEM, TUL, SMP, VBSG (pdf)
Del 32 - AH, GEM, MIK, VBSG (pdf)
Del 33 - AH, GEM (pdf)
Del 34 - AH, GEM, MIK (pdf)

Level 2
Del 11 - AH, GEM, TUL, BÖL (pdf)
Del 12 - AH, GEM, TUL, BÖL (pdf)
Del 21 - AH, GEM, TUL, BÖL (pdf)
Del 22 - AH, GEM, BÖL (pdf)
Del 23 - AH, TUL (pdf)
Del 24 - AH (pdf)
Del 31 - AH, GEM, TUL, KEM (pdf)
Del 32 - AH, GEM, KEM (pdf)
Del 33 - AH, TUL (pdf)
Del 34 - AH, KEM (pdf)

Level 3
Del 11 - AH, GEM, LMV (pdf)
Del 12 - AH, GEM, LMV (pdf)
Del 13 - AH, GEM, LMV; SMP (pdf)
Del 21 - AH, GEM, LMV, SMP (pdf)
Del 22 - AH, GEM, LMV (pdf)
Del 23 - AH, GEM, LMV (pdf)
Del 24 - AH, GEM, SMP (pdf)
Del 31 - AH, SMP (pdf)
Del 32 - AH, GEM, SMP (pdf)
Del 33 - AH, LMV (pdf)
Del 34 - AH, GEM, SMP (pdf)

Level 4
Del 11 - AH, GEM, MIK (pdf)
Del 12 - AH, GEM, MIK (pdf)
Del 21 - AH, GEM, MIK, VBSG (pdf)
Del 22 - AH, GEM, MIK, VBSG (pdf)
Del 23 - AH, GEM, MIK (pdf)
Del 24 - AH, MIK (pdf)
Del 31 - AH, GEM, VBSG (pdf)
Del 32 - AH, GEM, VBSG (pdf)
Del 33 - AH, GEM, MIK, VBSG (pdf)
Del 34 - AH, VBSG (pdf)

Level 5
Del 11 - AH, GEM (pdf)
Del 21 - AH, GEM, MIK (pdf)
Del 23 - AH, MIK (pdf)
Del 31 - AH, GEM, VBSG (pdf)
Del 33 - AH, MIK, VBSG (pdf)