Spanish shipyard will build SLU's new research vessel
Published: 19 January 2017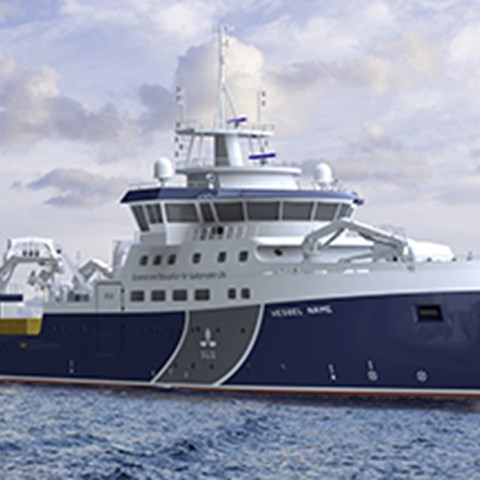 The Spanish shipyard Armon has been awarded the contract to build SLU's new ocean-going research vessel. The agreement was signed today, January 19th, 2017. The vessel, which will be suitable for virtually all types of marine research and environmental monitoring, is expected to be operational in spring 2019.
The agreement was signed by Laudelino Alperi Baragaño, Executive Shareholder of Armon Shipyards, and Erik Fahlbeck, Pro Vice-Chancellor of the Swedish University of Agricultural Sciences (SLU).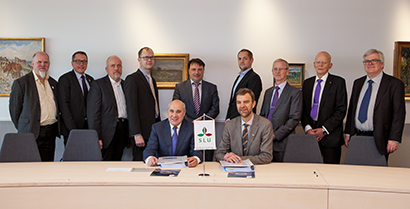 Photo: Jenny Svennås-Gillner, SLU
Present at the meeting at SLU in Uppsala, was also a representative of the Swedish Meteorological and Hydrological Institute, which together with SLU will perform most of the environmental monitoring and fisheries research that the vessel will be used for. Also represented at the meeting was the Swedish Agency for Marine and Water Management.
"Sweden's environmental work will benefit greatly from this long-awaited vessel, and we are very pleased that construction can now get started", says Professor Magnus Appelberg from SLU, who has participated in the project's steering committee since its inception.
"It has been a long procurement process, but in the end it has given us one of the world's top design firms (Skipsteknisk) and a shipyard (Armon) with wide experience of qualified vessels and research vessels", says project leader Anders Englund.
The vessel is calculated to be launched in the summer of 2018 and the final handover to SLU will take place in the spring of 2019. During the construction process SLU will have its own quality controllers in place in Spain.
Contact persons
Magnus Appelberg
Professor and Head of the Department of Aquatic Resources, SLU
magnus.appelberg@slu.se
Lars Thorell
Head of the Research Vessel Unit at SLU
070-557 15 07, fartyg@slu.se
---
Contact