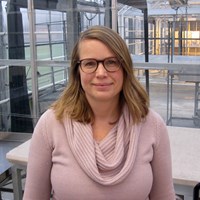 Annie Drottberger is a PhD student in Horticultural Science especially Business Administration at the Swedish University of Agricultural Sciences, the Department of Biosystems and Technology in Alnarp, Sweden. Her research involves adoption of knowledge and innovations in sustainable horticultural production systems.
Presentation
My educational background is a M.SC. in Horticulture and a B.Sc. in Budiness administration from 2005 at the Swedish University of Agricultural Sciences. Prior experiences includes working as an agricultural consultant at the provincial government 2006 - 2007 with business support and EU subsidies. She also worked as a business developer at The Federation of Swedish farmers during 2008-2018 focusing on the regional food strategy and sustainability.
Teaching
Annie Drottberger is involved in teaching and supervision in the following courses in horticulture and agroecology:
Product development and innovation systems in horticulture - FÖ0435
Project management for innovation in sustainable food systems - LV0102
Scientific methods, tools and thesis writing - LB0112
Integrated pest management for sustainable production systems - BI1267
Maten i dagens och morgondagens samhälle - TD0008
Odlingssystem i trädgårdsföretag - BI1362
Horticultural production physiology - BI1362
Research
She is currently involved in research on adoption of innovations and knowledge in horticultural firms in different production systems focusing on high-tech greenhouse production, PFAL (Plant Factories with Artificial Lighting) and rooftop farming. The research interests include transition to a more sustainable food system from a socio-technical perspective.
Selected publications
Drottberger, A. Melin, M. & Lundgren, L. (2021). Alternative food networks in food system transition - values, motivation, and capacity building among young Swedish market gardeners. Sustainability, 13 (8), 4502.
Drottberger, Annie (2021). Introduction and adoption of technical innovations - a study of sustainable production of leafy vegetables in different production systems (Report)
---
Contact