Letter from the Dean
Last changed: 16 February 2022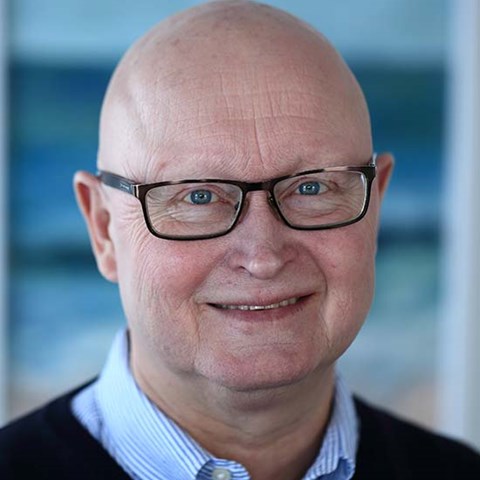 Reflecting on today and the future
The snow is falling outside my window at Ulls hus, we're approaching 3pm and the darkness is unfolding. It really feels like we have entered into the time of year that is incredibly dark, yet still has an element of cosiness as we edge towards Christmas – and the time off this entails, giving us the opportunity to recharge and spend time with our nearest and dearest.
This time of year is when we tend to look back and summarise the year gone by. Once more, it has been a special year. It has been a trying time for many – I know – but it would appear that these unprecedented times have not held us back too much. I have seen development in all areas; there is an optimism with all our courses and programmes following the restructure, and admission rates continue to rise. Our collaborations have developed much clearer structures, especially those at "higher" and "central" levels – these levels are important as they pave the way for in-depth collaborations. We have also evolved in environmental monitoring and assessment. I am especially happy with the position those of you who work with environmental monitoring and assessment have taken in the media over the past year. We are really showcasing our extensive knowledge based on scientific ground. Thank you!
External research funding is also running smoothly. Unfortunately there's not enough room to list all the successes we have had over the past three years. Nevertheless, the most recent example was published on the Wallenberg Foundation website, where two of eight Wallenberg Academy Fellows (in the natural sciences) will be placed at our faculty. A huge congratulations to both the Department of Plant Biology and the Department of Molecular Sciences respectively.
I would also like to take the opportunity to mention our newly finalised action plan for systematic work with gender equality and equal opportunities. This is quite difficult material to attack if we are to create an action plan that isn't abstract and can be worked with. Luckily, we have one of those now and I would like to thank everyone who worked on it.
And of course we want to look to the future... We have just returned home after our away day in Krusenberg with the four new faculty boards and university management; two wonderful days filled with enthusiasm and plenty of good food. However, the current situation continues to make its presence known; our soon-to-be deputy vice-chancellor Pär Forslund is currently at home for safety's sake, as he has a cold, and soon-to-be deputy dean Sara Hallin stayed home awaiting a negative test result after travelling abroad. It would appear that we will continue to err on the side of caution for quite some time.
The New Year sees the start of a new three-year term of office with a large portion of new faculty management. It will be fun, and Sara and I are proud and grateful for the great authority you have entrusted in us as deputy dean and dean. You have elected a broad and experienced faculty board for our faculty. On 2 December, we convened for the first time (without Sara, unfortunately) and I get the impression that this will be very good indeed. I confidently look forward to the next three years! Sara and I have been working to put together the remainder of faculty management – the vice-deans in the working committee – and we have made good progress. We still need to fill the positions on our various boards and I hope – and believe – you, the researchers, teachers, and environmental assessment analysts, will take part and contribute like you always do. This will take place during the spring. After this, we can really set the further development ball rolling.
But first: Christmas.
Finally, I would like to thank Pär Forslund for an excellent collaboration over the past six years. I wish him the very best of luck with the new job! I would also like to remind you all to look back on our successes over the past year; you should feel proud of these and confident as we go into 2022. This is a fantastic faculty in every way, shape and form, and I am genuinely proud of you all. I wish you all the best over the holidays, and a happy new year!
All the best,
Torleif Härd, Dean
2 December
---
Contact