SLU news
Is the plant-based diet attractive everywhere?
Published: 26 January 2023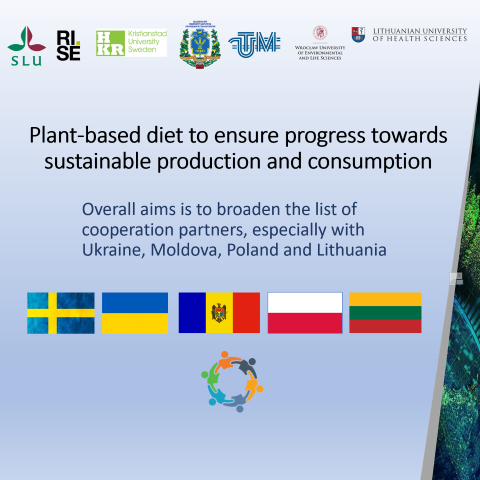 To reach healthy nutrition goals, the EAT-Lancet Commission has underlined the need to reduce the consumption of animal-based foods and increase the consumption of plant-based foods. Consumption patterns and attitudes in Nordic countries are shifting towards a more plant-based diet. But what are the attitudes in Ukraine, Moldova, Poland, and Lithuania? We will soon find out!
On the 23rd-24th of January 2023, the Department of Molecular Sciences hosted a meeting for "Plant-based diet to ensure progress towards sustainable production and consumption", a cooperation project in the Baltic Sea region. The project is financially supported by Swedish Institute (SI), project number 00122/2022.
Interest in plant-based diets has been growing in recent years in both the general population and the academic community. This is due to the environmental benefits of plant foods as considerably fewer natural resources need for their production in comparison to animal foods, and due to a variety of health benefits, including a reduced risk of chronic diseases. Meat consumption in Sweden has decreased from 88.4 kg (2016) to 78.6 kg per capita (2020). In Poland, meat consumption is constantly increasing according to a recent review by Borusiak et al (2022) (click here for article), and in Ukraine, a decline is considerable due to Russian aggression.
Some consumers are not willing to reduce meat consumption in favour of plant-based foods. This may be due to scepticism about sensory qualities and health benefits of plant-based alternatives, and price. Meat consumption also depends on cultural and religious norms. Nowadays, knowledge about cultural and geographical differences in the interest in the reduction of meat consumption is limited. In this project, we will investigate the attitudes toward reduction in meat consumption in Ukraine, Moldova, Poland, and Lithuania and compare them with the attitudes of Swedish consumers.
"Such a study will highlight the readiness and resistance to eating less meat and point to different causes of this attitude in those countries. Based on this, different strategies to support consumers in their transition toward more sustainable plant-based foods can be developed in line with their cultural preferences", says Galia Zamaratskaia.
Professor Małgorzata Korzeniowska from the Wroclaw University of Environmental and Life Sciences has spent much of her career researching how unconventional plant raw materials can improve the nutritional and sensory quality of processed meat. "Creating of hybrid product, based on both animal and plant material, might be a solution for some consumers who want to keep meat as a part of their diet", explains Małgorzata.
"Meat consumption in Ukraine considerably decreased over last year, but unfortunately, not due to increased awareness of health benefits, climate changes or animal welfare. During the war, food consumption is mainly affected by affordability and availability. This of course will change later, and we believe that in the future, plant-based food, either as a complement or substitute for animal-based food, will help us to achieve the Sustainable Development Goals", says Professor Andriy Getya from the National University of life and environment sciences of Ukraine.
Saeid Karkehabadi, the grant holder and project leader, believes that the meeting was successful and it sparked dialogue across universities from the countries in the Baltic Sea region. "It underscored the rise in demands for more research in alternative protein sources", says Saied. "More efficient, profitable and sustainable use of locally produced and underutilized plants is also important", adds Martin Knicky from RISE. "We should not forget about consumers", notifies Viktoria Olsson from Kristianstad University, "Even though plant-based food is perceived by many consumers as healthier and as a better climate choice, taste, texture, aroma, and nutritional value are equally important".

---
Contact