Newsletter following the NJ Faculty Board meeting on 8 December
Published: 21 December 2021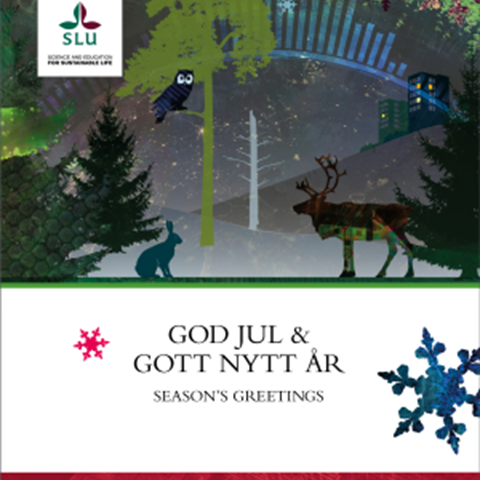 The NJ Faculty Board convened on 8 December. This newsletter contains details about the decisions taken and other information.
The Dean's Christmas Blog
Read Dean Torleif Härd's Christmas blog here: ...some reflections from today and into the future
This is a fantastic faculty in every way, shape and form, and I am genuinely proud of you all. I wish you all the best over the holidays, and a happy new year!
All the best,
- Torleif
Professor of Ecology
The faculty board will be recruiting a professor of ecology for the Department of Ecology. The professorship will focus on plant communities in sustainable production ecosystems.
Senior lecturer in environmental communication
The faculty board will be recruiting a senior lecturer in environmental communication at the Department of Urban and Rural Development.
Acting head of subject for rural development in the Global South
The faculty board have appointed Docent Klara Fischer from the Department of Urban and Rural Development as the acting head of subject for rural development, with focus on the Global South. Klara will take up the position on 1 December until a new professor is appointed.
Faculty organisation and delegation of authority
The faculty board has decided to approve the new version of the faculty delegation of authority, effective as of 1 January 2022. The board has also instructed the dean to make any future changes to the delegation of authority that may be necessary as a result of decisions taken by the vice-chancellor or the SLU Board, or following changes to the faculty's organisational structure. The reason for this is that Sara Hallin, our new pro dean as of 1 January, will have different areas of responsibility than current pro dean Pär Forslund. View the delegation of authority here
Equal opportunities at NJ Faculty
On 19 November, the dean approved an action plan for work with gender equality and equal opportunities at the NJ Faculty for 2021/2022. Read the decision document here (in Swedish only)
More information about NJ Faculty's work with equal opportunities
NJ Faculty's research collaboration with low and middle-income countries
Approximately one-quarter of SLU's scientific publications are the result of collaborations with researchers based in low and middle-income countries. These publications are now available online and have been organised by faculty. Use the interactive map to see where SLU has collaborations.
---
Contact

Pär Aronsson
Head of Faculty Administration
Faculty of Natural Resources and Agricultural Sciences, SLU
par.aronsson@slu.se, +46 18 67 25 67
---
Links: