Animals, technology, buildings, and sustainability are the combination of subjects that characterize my research and collaboration. A good building function creates the conditions for good animal welfare - and good production. The technical development with digitization creates an incredible number and advanced opportunities to follow the animals in real-time with the help of sensors and advanced data processing gives us useful information and has practical application. The role of animals in sustainable food production is something that interests me a lot.
Presentation
My research deals with how we can create good animal welfare in combination with effective management. Key elements of a good animal environment are good hygiene of premises and animals, and an environment allowing for natural behaviour. Thriving animals also increase productivity.
My area of expertise is building functions and animal environment in dairy and beef production. My research mainly concerns details in the design of the animal environment, but also the design of whole systems for the production of meat and milk.
Extension
My department, Rural Building and Animal Husbandry, has long been engaged in outreach activities with stakeholders. For instance, we organise Alnarps mjölkdag (Alnarp Dairy Day) annually, where we present current research for the industry, advisors, farmers and students. Our initiative has also generated corresponding information days on beef and pig production at SLU.
We have also established contacts with the industry in several collaborative projects, such as how to increase the level of omega-3 in milk together with Skånemejerier (Skåne County dairy industry), and in an evaluation of cubicles bases for cows together with Alfa Laval.
Teaching
I teach about animal feed, animal health and production systems for cattle for the Lantmästareprogrammet (Agricultural and Rural Management), one of SLU's educational programmes at undergraduate level.
Research
1. Growing young cattle in cubicles for resting
In beef production most calves are born in spring. How can we design cubicles which are functional for calves of all ages, from small calves of 200 kilos to calves of 600-700 kilos, which is their weight 8-10 months later at the time of slaughter?
2. Monitoring of cattle grazing on inaccessible pastures
In this project we investigate how the farmer can equip his/her cattle with GPS collars and then, via the mobile phone, receive maps of where the animals are and have been grazing. This helps finding cattle in large pastures or during autumn when they are likely to spread out to find pasturage.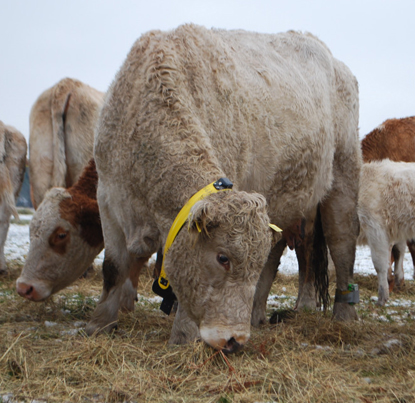 GPS collared cattle. Photo: Anders Herlin/SLU.
Background
My grandfather was a farmer, and as a six-year-old I thought growing potatoes was very exciting. Later in life I became interested in animals. I therefore chose an education in agriculture (MSc in Agriculture with specialisation in Animals at the Swedish University of Agricultural Sciences, SLU).
By chance, I continued with a career in research. In 1994 I received my PhD with a dissertation in the field of animal environment for cattle, the field in which I have continued to teach and conduct research.
I have taught for the Agricultural and Rural Management Programme at SLU since 1999. In 2006, I became Associate Professor and since 2012 I have been Senior Lecturer/Extension Specialist in Building Functions.
---
Contact
---
Publications list: