With a sense for education at VH
Last changed: 10 July 2023
There are currently two major projects in progress at the VH Faculty, involving some radical changes. Many changes concern the programme offering, and as of January 2019, Johanna Penell from the Department of Clinical Sciences is vice dean with responsibility for the faculty's programmes and courses. It's her second stint as vice dean and member of the faculty board.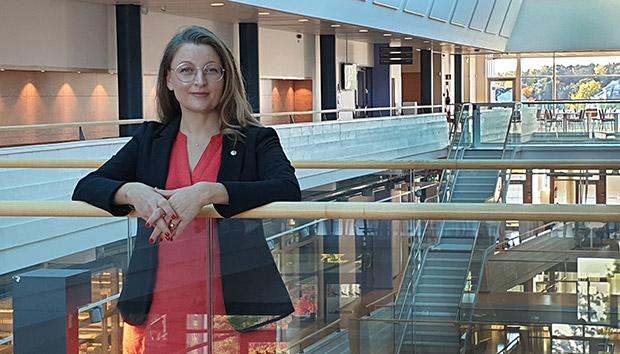 'I enjoy working with these issues, in particular now when so much is happening. It's very rewarding to be part of something where I, together with others, can have an influence and create optimal conditions for our work' says Johanna.
Johanna is deeply involved in the expansion project, the purpose of which is to increase the number of students on the programmes in veterinary medicine and veterinary nursing. The biggest increase will the Veterinary Medicine programme, where the number of places will increase from 100 to 145. The number of students on the Veterinary Nursing programme has risen considerably in the last 10 years, which means the increase there will be smaller.
'The programme structure for veterinary medicine has been finalised. The course schedule has been approved. There will be some changes. The plan is to allow the students more contact with animals earlier on in their studies. We have also added components on the role of a veterinary surgeon, partly for professional development purposes, but also to reduce stress. We're trying to limit stress for students on all programmes, to the extent possible. Young people today are subject to more stress than was the case 20–30 years ago, something we must try to ward off in the study environment.'
The last 2.5 years of the Veterinary Medicine programme include clinical training at the UDS, some of the faculty departments and the Lövsta slaughterhouse.
'Until now, those years have just been referred to as clinical veterinary medicine, but we're now intensifying work on detailed plans.' Detailed course planning for the Veterinary Medicine programme is expected to be finalised in spring 2023. This will be followed by gradually developing new course syllabuses.
Increasing the number of students will take place during a very short period. The faculty proposed 2024, preferably 2025, but the government decided on 2023.
'That was unexpected. But, if the government says 2023, 2023 it is. We'll do our very best. It has been rushed at times, but the tight schedule has forced us to focus and concentrate.'
Funds have been allocated for this transition, and this has been very important as it has freed up time for work and for implementing certain key changes.
'I'm impressed by how everyone has been contributing suggestions and solutions, making it possible for us to create the best conditions possible for students and teachers. Right now it's primarily about veterinary medicine and veterinary nursing, but we recently saw the Agriculture – Animal Science programme undergo major changes with a new format for the professional qualification.'
Improvement and quality assurance of other programmes is also a continuous effort, with programme directors of studies keeping things together for their respective programmes.
The integration project will change the VH Faculty, not entirely, but fundamentally. Despite some concerns, Johanna believes we're on the right path.
'My colleagues are so skilled, experienced and focused on finding solutions. There's great team spirit and drive, with incredible results. And the early parts of the project are now nearing conclusion. It's great to be able to tick things off and move forward. One day, we will reach the finish line.'
This text focuses on what is most relevant right now, which is the Expansion Project. Johanna Penell points out that no program is forgotten, but that the space unfortunately does not allow for everything that Johanna wanted to include about the other programs.
Text and photo: Mårten Granert-Gärdfeldt.
---
Contact