Lake Vättern – a role model for future fisheries management
Published: 25 August 2021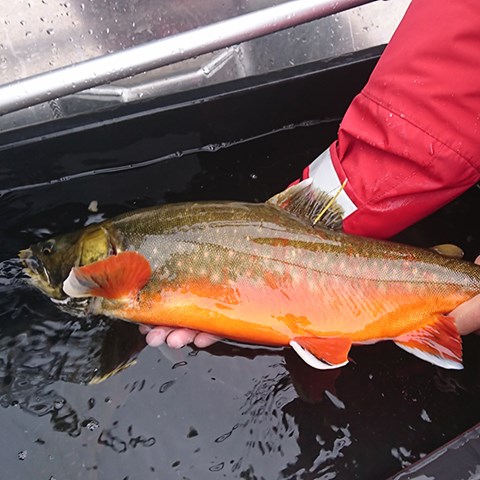 Ecosystem-based fisheries managements accounts for whole ecosystems and for those who affect and are affected by the ecosystems. Safeguarding viable ecosystems and fish stocks is seen as crucial in several EU directives and other international agreements. But examples of how to apply ecosystem-based fisheries management in practice are few globally, particularly among lakes. A new SLU-led study describes how the fisheries management of Lake Vättern, Sweden, relates to applying an ecosystem approach, and shows that a locally adapted ecosystem-based approach can give good results.
Lake Vättern is Sweden's second largest lake and faces multiple environmental challenges such as climate change, pollutants and invasive alien species.
Around Lake Vättern, representatives for management authorities, commercial fishers, recreational fishers, researchers, water-owners and tourism entrepreneurs meet regularly to jointly try to meet the changing needs of the fish stocks and the lake ecosystem, and how meeting those needs affects surrounding societies.
-Sometimes not everybody agrees, but then at least an opportunity is given to get an insight into and to discuss how others with an interest in Lake Vättern consider those needs, says Andreas Bryhn, Associate Professor at the Department of Aquatic Resources.
The cooperation has nevertheless led to several advances in the fisheries management. For instance, the Arctic char has got stronger protection and has been able to recover, although there are still concerns for the unique Arctic char stock in the lake.
- Ecosystem-based fisheries management can be seen as a working method, but it doesn't automatically solve all problems. There is a lot left to do in Lake Vättern, such as providing opportunities for the salmonid fish grayling to recover, and to provide more opportunities for people around Lake Vättern to eat locally caught fish, says Andreas Bryhn.
The study has been performed in cooperation with the Lake Vättern Society for Water Conservation (Vätternvårdsförbundet) and others and highlight different practical examples of how ecosystem-based fisheries management can work in reality.The results emphasize that ecosystem-based fisheries management requires a long-term commitment, because cooperation structures, trust and competence take substantial time to build up.
The study Ecosystem-based fisheries management is attainable, affordable, and should be viewed as a long-term commitment: Experiences from Lake Vättern, Sweden has recently been published electronically in advance in the international Journal of Great Lakes Research.
---
Contact
Andreas Bryhn, Researcher, Director of Studies
Department of Aquatic Resources, SLU
andreas.bryhn@slu.se, +46 10 478 41 52