Professor Erik Steen Jensen receives French honours
Published: 23 January 2020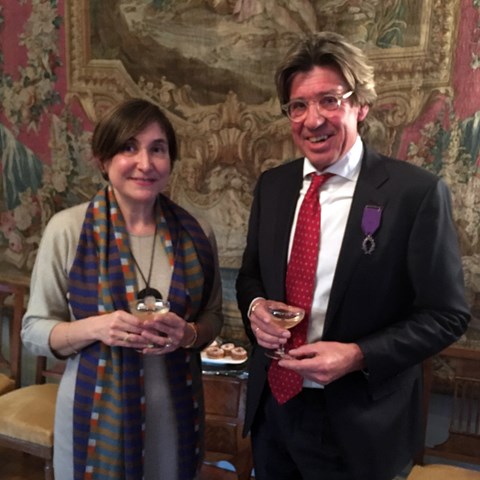 Professor Erik Steen Jensen, Cropping Systems Ecology, The Department of Biosystems and Technology, Alnarp has been appointed knight of the French Order l'Ordre des Palmes Académiques. This order is a prestigious honour of the French Republic within science, culture and education, instituted by Napoleon Bonaparte.
The motivation for the honours is Erik Steen Jensen's long-standing commitment to strengthen the scientific exchange with France within agricultural science. He collaborates with many French researchers from universities and research institutions on the sustainable development of food systems and he works for the French Research Council ANR.
Erik Steen Jensen's research and teaching deals with organic food production and Agroecology. Agroecology is the integrative scientific discipline for studies about the ecology and sustainability of food systems, involving production to consumption. He focuses on the development of environmentally, economically and socially sustainable cropping systems that can produce healthy foods with less requirements for synthetic fertilizers, fossil energy and pesticides. He has been doing research for many years in particular on diversification of cropping systems and the promotion of protein crops, for example pea, bean, lentil, etc. in the Nordic countries. He also does research and teaching about the major challenges in mitigating and adapting to climate change and reducing the input of nitrogen in global agriculture.
The French ambassador in Denmark, Caroline Ferrari, awarded Erik the order sign at a ceremony at the French embassy in Copenhagen, on 22 January 2020. In her speech, the ambassador highlighted Erik's long-lasting importance for research collaborations between France and the Nordic Countries, and his valuable contributions to develop and strengthen research and teaching in Agroecology. The ambassador mentioned that Erik was part of establishing the Agroecology master's programme at SLU, which started in 2010, and that he was one of the founding members of the association Agroecology Europe, established in 2016.
---
Contact

Page editor: andrus.kangro@slu.se