Medals for Distinguished Service to Ågren, Jeppson-Eldrot and Melnyk
Published: 20 September 2019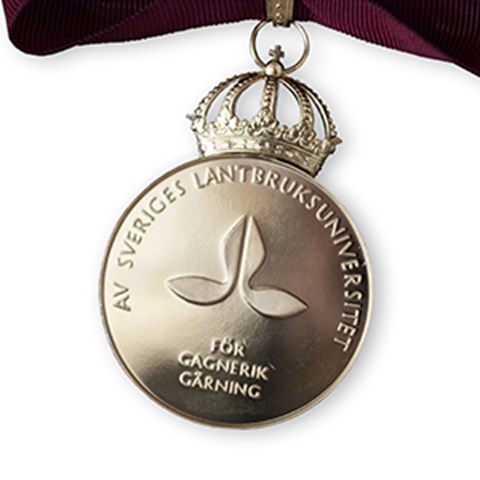 SLU's three Medals for Distinguished Service will be awarded in connection with the doctoral degree award ceremony on October 5th this year. The Great Medal is awarded to Professor Emeritus Göran Ågren. The smaller Gold Medal is awarded to Leadership Development Officer Eva Jeppson-Eldrot, while the silver medal is awarded to Associate Senior Lecturer Charles Melnyk.
The medals were instituted through a decision by the SLU Board in April 2009 and were awarded for the first time in 2010. The SLU Board also decides who will receive the medals.
The Great Medal for Distinguished Service is awarded for research efforts deemed "remarkable from an international perspective". The smaller Gold Medal for Distinguished Service awards "exemplary, exceptional efforts of lasting value". The Silver Medal for Distinguished Service is awarded to a young, promising talent at SLU who is encouraged to continue in the same exemplary manner in the future, "preferably within the innovation and collaboration field".
Professor Göran Ågren is awarded SLU's great medal for distinguished service
Göran Ågren is professor emeritus in systems ecology. For more than 50 years he has developed mathematical models that as accurately as possible describe the carbon and nitrogen cycles in terrestrial ecosystems, especially in woodlands. Models of this type are important foundations in discussions on eutrophication and carbon balances. Models of forest ecosystems are also part of the huge models that cover the climate of the entire planet.
Göran Ågren was awarded his PhD degree in theoretical physics at Chalmers University in 1975, and was then recruited to a large research programme, "The Coniferous Forest Project", which sought expertise in mathematical modelling. Since then, Göran has worked at SLU in Uppsala as a researcher, research leader and professor, and as a head of department and member of various faculty committees. Göran Ågren became professor of systems ecology in 1986 and until his retirement in 2012 he lead the unit for systems ecology, first at the Department of Ecology and Environmental Research and later at the Department of Ecology.
Through his extensive and internationally highly respected achievements, Göran Ågren has helped placing ecological research at SLU on the world map, and many foreign guest researchers have come to SLU to work with the theoretical frameworks he has developed. He is still active as editor of two respected scientific journals and still comes almost daily to the university and contributes his knowledge.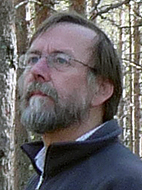 Göran Ågren. Photo: Linnea Berglund
Leadership development officer Eva Jeppson-Eldrot is awarded the gold medal for distinguished service
Eva Jeppson-Eldrot has a BSc in Social Work from Stockholm University. She was recruited to SLU in 2012 as a leadership development officer within the "Group for Sustainable Leadership in the Academy". Her task was to assist SLU's managers and leaders with support and development efforts, both at an individual, group and organisational level. Eva Jeppson-Eldrot's career, prior to her employment at SLU, consists of a variety of titles and engagement. Among other things, she has worked as a manager, internal consultant and process leader, as a strategic coordinator for managerial and leadership development, as a consultant on organizational development, and as a project manager. Taking the knowledge and skills developed within these roles with her to SLU, Eva has had many valuable experiences to share.
During her relatively brief period at SLU – until her retirement in May 2019 – Eva Jeppson-Eldrot, together with her colleagues, performed ground-breaking work in order to transform and renew the view of academic leadership. During this time, she and her colleagues planned and conducted managerial training for various managers and academics at SLU. Eva also provided support – both in group and individually – in matters ranging from managerial support, process support in operational development, operational planning, common values and organisational development, to management and group development.
Many of today's managers and leaders at SLU have had the privilege of taking part of Eva Jeppson-Eldrot's knowledge and expertise, and beyond that, of finding inspiration in her drive, dedication and humanity.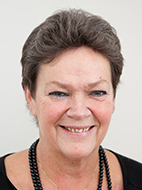 Eva Jeppson-Eldrot. Photo: Jenny Svennås-Gillner
Associate senior lecturer Charles Melnyk is awarded the silver medal for distinguished service
Charles Melnyk is a promising young scientist, and a world-leading expert on the unique ability of wounded plants to heal and reconnect the vessels that transport water, nutrients and hormones in the plant – the phenomenon that is utilized in grafting. Grafting is a very old and widespread technique, but our knowledge of what happens at the molecular level is very limited – how it is possible that one individual can be joined to another, that they do not repel each other but instead start a process of healing together to a common tissue.
Charles Melnyk comes from Canada. He was awarded his PhD degree from the University of Cambridge in 2011, where he later set up an independent research program to study graft formation using the model plant species Arabidopsis. In 2016, Charles Melnyk was appointed as a Wallenberg Academy Fellow, with five years of funding at SLU's Department of Plant Biology. He has since received several new significant research grants and has built up a strong and growing research group.
In addition to a basic understanding of the processes that control the fusion of tissues, Charles Melnyk's studies also aim to streamline the grafting process, increase the number of species that can be grafted, and find new ways to fight parasitic weeds.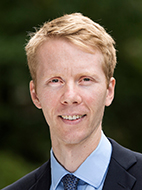 Charles Melnyk. Photo: Markus Marcetic (KVA)
---
Contact
Sune Lindh, Academy Secretary
Vice-Chancellor's Office, SLU
sune.lindh@slu.se, +46 18-67 10 12, +46 070-524 99 48
---
Links:

Page editor: David.Stephansson@slu.se