SLU news
Unique education collaboration with Wageningen
Published: 19 September 2023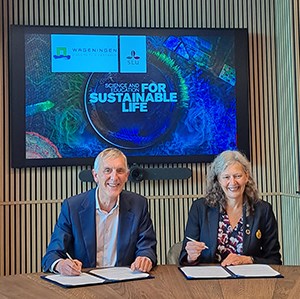 SLU and Wageningen University & Research have finalised a collaboration agreement enabling students at both universities to obtain double degrees.
The agreement applies for the Forest and Landscape Bachelor's programme at SLU and Forest and Nature Conservation vid Wageningen University.
Helena Mellqvist and Karin Hjelm, both programme directors of studies explain, 'We are excited that we will be able to strengthen the range of courses offered under the agreement. The collaboration and double degree agreement will result in students with unique future skills.'
Five students from SLU will be able to take the third year of their Bachelor's degree at Wageningen University – and vice-versa. Following completion of their studies, the students will be entitled to a degree from both SLU and Wageningen.
The first students are expected to begin in the 2024 autumn semester.
'I am delighted that, together with Wageningen, we can provide such an opportunity and give students a unique chance to expand their knowledge, horizons and their network,' Vice-Chancellor Maria Knutson Wedel says.
The rector magnificus of Wageningen University signed the agreement on 29 August.
---
Contact
Helena Mellqvist, Lecturer at the Department of Landscape Architecture, Planning and Management
Telephone: 040-415469
E-mail: helena.mellqvist@slu.se