Challenges and progress in open science
Published: 01 September 2023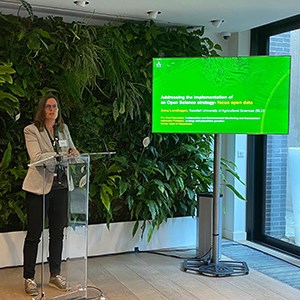 At an event in Brussels, researchers and policy makers met to discuss open science. A recording is now available on Youtube.
SLU co-organized the event together with EOSC-A (see fact box) and the Swedish Research Council. Vice President Anna Lundhagen was one of the speakers and talked about SLU's work with open science and the importance of infrastructure and culture to enable the transition to open science. In addition to Anna Lundhagen, Sumithra Velupillai, Senior Research Officer at the Swedish Research Council and Karel Luyben, President of EOSC-A also gave a lecture.
Data Management Support (DMS) at the SLU Library is involved in SLU's participation in the infrastructure and Head of Division Hanna Lindroos was in Brussels.
– It was very rewarding to exchange experiences about the work with open data, and there was great interest from the audience about how we work at SLU and in Sweden, says Hanna.
About EOSC
SLU is a member of EOSC-A (EOSC Association) since 2022. EOSC-A is an organization that develops the European cooperation EOSC. EOSC stands for European Open Science Cloud and aims to promote open science and increase the reuse of research data by building a infrastructure for open science.
---
Contact