New doctoral thesis about Miombo woodlands in Tanzania
Published: 29 June 2021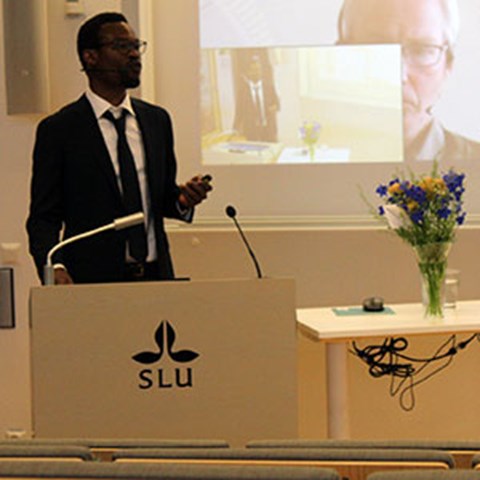 Sustainable management of miombo woodland needs to account for different services, such as ecological benefits and livestock grazing, provided by this landscape. Unclear land tenure system and lack of technical knowledge were identified as the major reasons for lack of wide improvement of the miombo.
Rangelands are valuable resources for livestock production and contribute positively to herders livelihoods. The shrinking of open rangelands used for grazing has led to utilization of miombo woodlands as alternative grazing resource.
Miombo woodlands are biomes with both understory herbaceous species and relatively dense tree cover. It is therefore important that livestock and grazing management practices maintain both rangeland condition and tree cover in miombo. The current study was conducted to assess herders' management and condition of assigned grazing land in miombo woodlands. Household survey was used to investigate indigenous rangelands and livestock management practices among herders.
Seasonal miombo grazing land condition was evaluated in Ihombwe, Kigunga and Ulaya Mbuyuni villages using botanical composition, vegetation structure and forage condition. A feeding trial with goats was used to evaluate potential supplementary diets (Brachiaria brizantha cv Piatã, Cenchrus ciliaris and concentrates) for their intake and growth performance. Herders in studied miombo kept indigenous livestock species and relied on them mostly for food and income.
The miombo grazing land had good tree cover (923-1136 trees/ha) and diverse herbaceous plant communities. Increaser 2a grass species were the most prevalent herbaceous plants in the studied Ihombwe village. These grass species indicated good rangeland condition and moderate grazing intensity. Poor grass cover during dry seasons and high prevalence of Increaser 2b and 2c in Ulaya Mbuyuni and Kigunga villages indicated poor condition and early stage of degradation in the two areas. Above ground herbaceous forage biomass varied seasonally and was at the lowest (299 kg DM/ha) during late dry period.
Rangeland improvement practices such as use of forage reserves to enable forage availability during dry season were limited among herders in the studied miombo. Unclear land tenure system was mentioned as the major reason for neglecting rangeland improvement in miombo grazing land.
Evaluated supplementary feeds to be fed during dry periods had enough nutrients to meet requirements of indigenous livestock species. Goats fed concentrates had lower feed intake and overall live weight change compared to those in C. ciliaris diet while B. brizantha cv Piatã fed goats were intermediate. C. ciliaris and B. brizantha cv Piatã were shown to be better supplementary diet for feeding livestock during late dry period when there is forage shortage.
It was concluded that some studied miombo grazed areas were in poor condition and showed early sign of degradation, however, current livestock grazing in miombo supported herders livelihood without causing negative effects on tree cover.
Doctoral thesis
---
Contact