Online lectures by 15 new professors in Uppsala and Umeå
Published: 23 April 2021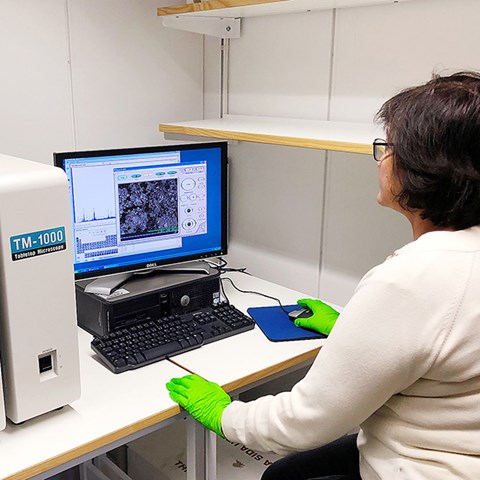 On 28–29 April, 15 new SLU professors will give short, inspiring popular science presentations. The lectures will cover topics such as technology for safe nutrient recycling, sustainability, entrepreneurship, new types of bio-based materials, forests as ecosystems and a resource for raw materials, nutrient cycling in soil and a prion disease in reindeer. These lectures are part of the inauguration ceremony for new professors.
Every year, a number of new professors are appointed at SLU. In 2020, the inaugural ceremony had to be cancelled due to the coronavirus pandemic, but this year we will be performing parts of the ceremony that all new SLU professors attend. The formal inauguration will take place at a later date. However, the inaugural lectures, when new professors present their research domains, will take place and this year they have a new, exciting format.
Each item on the programme will start with an introductory film clip and a conversation between the professor and the moderator. After the introduction, each professor will give a 15-minute popular science presentation before concluding with a Q&A session. Four of the lectures are given in Swedish, the rest in English, as shown in the program.
The presentations will be broadcast live from SLU Uppsala and SLU Umeå. The broadcast will be available on www.slu.se/professorer. No prior registration is needed.
We hope the online audience will be a curious one, and we encourage you to ask your questions by emailing nyaprofessorer@slu.se. Send your question during the presentation, and the moderator will ask it during the Q&A session.
If you cannot watch the broadcast live, a recording will be available to watch after the event. As the material must be subtitled before it can be published, some delay is necessary.
More information about our new professors in text, image and film clips, is available on the same page: www.slu.se/professorer.
For more information about the event, please contact Jenny Sälgeback, Academy Steward, jenny.salgeback@slu.se, +46 18-67 10 74
Programme
Wednesday 28 April
09.00 Introduction
Vice-Chancellor Maria Knutson Wedel
Moderator Malin von Essen
09.10 Hjärnan bakom beteendet
Erika Roman, professor of domestic animal physiology
09.45 Chronic wasting disease in Norway and why the rest of Europe should worry
Bjørnar Ytrehus, professor of veterinary pathology
10.25 The struggle over sustainability: on the co-construction of meaning in environmental governance
Anke Fischer, professor of environmental communication
11.00 Naturen som inspirationskälla i materialdesign för bättre miljö
Gulaim Seisenbaeva, professor of inorganic and physical chemistry
12.30 Life underground: the diet of soil biota
Anke Herrmann, professor of soil nutrient cycling
13.05 Technology for safe nutrient recycling
Björn Vinnerås, professor of environmental engineering
13.45 The microbial engines of lakes
Stefan Bertilsson, professor of functional ecology in limnic systems
14.20 Entreprenörskap på landsbygden
Johan Gaddefors, professor of business administration
Thursday 29 April
09.00 Introduction
Vice-Chancellor Maria Knutson Wedel
Moderator Malin von Essen
09.10 Element cycling in terrestrial ecosystems
Marie Spohn, professor of the biogeochemistry of forest soils
09.45 Forest-derived and other bio-materials in sustainable composites
Stergios Adamopoulos, professor of wood science and wood technology
10.25 Raffinerade biprodukter för raffinerade bioprodukter
Sylvia Larsson, professor of technical biomaterials science
11.00 The life and death of xylem cells determine the properties of wood
Hannele Tuominen, professor of forestry-related plant physiology
12.30 The hidden gears that help us understand how forest ecosystems function
Michael Gundale, professor of forest vegetation ecology
13.05 More than money: forest economics as a tool to better understand sustainability
Francisco X Aguilar, professor of forest business management
13.40 Forest logistics: smarter solutions for working in the woods
Dag Fjeld, professor of forest technology specialising in logistics
---
Contact