Claudia Köhler - one of NJ's successful researchers
Published: 14 May 2019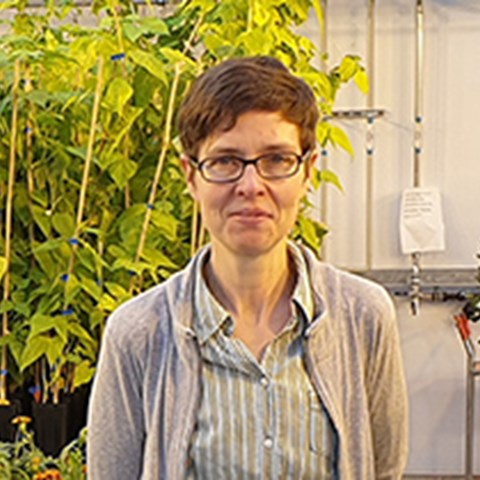 Claudia Köhler was recently designated Wallenberg Scholars, which means that Claudia receives 18 million Swedish kronor to spend for five years. Wallenberg Scholars is a program that aims to support and stimulate some of the most successful researchers at Swedish universities.
Claudia Köhler has since 2010 been professor of molecular cell biology at the Department of Plant Biology in Uppsala.
You have now received 18 million Swedish kronor to spend for five years. It's a lot of money. Do you already know what you will do with the money?
– Yes, I received the money for a research project addressing the role of small RNA molecules (RNA has similar form and function as DNA) for plant reproduction and I will use to money to employ researchers to work on this project.
Is it possible to briefly and simply explain what your research is about?
– I work on plant reproduction and in particular try to understand the role of the endosperm (a part of the seed) for seed development. The endosperm is the major source of human calories,. It is therefore of importance trying to understand the mechanisms of its formation and its function. We have recently shown that small RNAs are of crucial relevance for normal endosperm development and in this project we try to elucidate the pathway of their production and mechanism of action.
Do you know if it is for any particular reason that you were nominated for the Wallenberg Scholars? I guess competition is tough.
– I think that the commission was convinced that I did scientifically well in the past and will do so in the future. Furthermore, the assessment is made based on the reviews of experts in the field and based on their recommendation the commission is making its decision.
Do you have something that you would like to research about but for which you could not for various reasons? Feel free to wish anything.
– I would be very interested to test the ideas and concepts that we developed on model organisms in the laboratory in the ecologically relevant context. This requires resources and collaborations that I only now started to establish, but I look very much forward to the results. Otherwise I am happy with the direction of my research and do not think of other direction that could be more interesting.
You are a very successful researcher with a number of awards. Is there anyone you think is missing?
– Well, what is missing mostly is sufficient time to do the things I would like to do; but I believe this is the problem most researchers face. We have too many things we have to do, like writing proposals, reviewing other people's proposals and manuscripts, which takes away much of our time.
---
Contact

Page editor: marten.granert@slu.se