Research is addictive! - Dean's letter from Henrik Rönnberg
Published: 28 February 2018
The development of society depends on research, so you can say that research is dependable (or better put addictive)!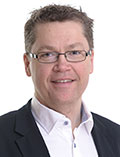 Henrik Rönnberg, Professor and Deputy Dean,
Faculty of Veterinary Medicine and Animal Science

Why do I work at SLU? I have since been legitimized as a veterinarian 1994 from here, had offers from different parts of the business community and sometimes spent part-time in the service of the industry - but always vibrated back to the mother ship. Why?
It is healthy to be out in business and to feel the wishes of the industry about what to research more, or what we should be better in communicating from the university. Better also because you often have higher pay "out there". But now I am a researcher who is addicted - to research.
There is absolutely good research in the business world. It is primarily applied and prioritized based on the company's absolute needs and strategy. What is being researched usually has a very wide base in knowledge from previous basic research and pilot studies that come primarily from universities! I want to do most of my research in the university environment. I have a much greater opportunity to take in the skills I consider to be most valuable and not locked in the same way by corporate priorities. In addition, we have a much broader competence at universities than any single company (no matter how big) may ever offer!
We hear more often from the surrounding community that we must use the resources we are sitting on! We must also be able to show how they have been used and that they have been in line with requests from the donor (state, research funds, etc.).
I want SLU and the VH faculty to stand an external audit. We are going to be so good that we do not fear audits and these will confirm that we are on the whole in the right direction and maintain high quality. But we must also be so "generous" that we can bear criticism and adapt/strengthen parts that the world outside does not consider holding the right level! Only then, we are a university. We will be grateful for all independent reviews!
It can be hard to appreciate when you are in the middle of KON2 and EAEVE to really "appreciate" the work needed to get all the requested information. But I promise - afterwards we will be stronger. We get confirmation that we are very good at large! In addition, we get help identifying the weaknesses, and then we understand that these areas really need to be strengthened to make us a unity and become that 1000-piece puzzle with all the pieces in the box! We will be the "1000-bit university in the box" and gladly have a couple of spare bits that we can lend to others who do not have everyone in their box! It's only then we become world-class and interesting for the outside world! We are already in many areas, but we must be that over the entire line!
We will have a veterinary program accredited according to EAEVE - period! We are top notch most of the time, but we need to keep the required standard in all subjects - and that is where we thank the external review!
I promise to do everything to be an independent researcher, but both you and I will always be dependent on research!
Henrik Rönnberg
---
Contact
Henrik Rönnberg, professor
Faculty of Veterinary Medicine and Animal Science, SLU
henrik.ronnberg@slu.se, +46(0)18-67 13 63

Page editor: charlotta.lantz@slu.se