A new year lies ahead of us - Dean's letter from Kristina Dahlborn
Published: 24 January 2018
A new year lies ahead of us - at least almost, as January is nearly over. It is incredibly beautiful when Sweden is in winter shine and the frost glistens in the trees.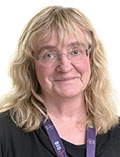 Kristina Dahlborn is Professor and Dean at the Faculty of Veterinary medicin and Animal Sciences.

I'm plowing through the snow (hoping it stays for the spring break) during my morning animal-walk (we have Linderöd pigs, Gute sheep, chicken and horses) with the accessories (2 small dogs). There is so much hope in January when the Christmas holiday is over (maybe you have made a new year's resolution that you still believes you will keep) a whole year ahead and the days are just getting longer and lighter.
In 2018, we will work with both SLU:s and the governmental values. We are definitely influenced by #Metoo (eg #skiljaagnarnafrånvetet) but also by several incidents within our own faculty. We want to turn these beautiful words into daily reality for all our employees. How we express ourselves in speech and text should be enlightened with respect and those who are subjected to bullying and harassment should always receive a professional support from the immediate boss and all of us. The work is intended to be carried out in collaboration with GHAL (Group for sustainable academic leadership).
The new MU (employee survey) opened yesterday and work on KoN 2018 is in full swing. Maj-Britt Johansson, appointed by the Rector to lead the work for increased collaboration and better cooperation between VH and UDS, is also in full swing and soon the Rector's Council for Animal Health Care and related clinical research and teaching replacing the UDS committee will be launched.
Unfortunately, our veterinary education was not accredited by the evaluators that were here in September. Among other things, because the clinical courses in anesthesiology do not work as well as they should at UDS. We also received criticism for inadequate teaching in food hygiene and for insufficient isolation of dogs and large ruminants. The faculty has appealed and a group is working to answer the criticisms expressed in the evaluator's report. This will be ready on February 19th.
There are a number of other education projects (VP-17 later part, additional expansion DSS, student recruitment in animal science). I hope that we can all cooperate positively so that we develop our professional programs with high quality to meet the needs of the world and tomorrow.
This week, we in the Rector's council are visiting GIH to discuss possible cooperation in outdoor activities. In SLU's strategy, "The Importance of Nature Experiences and Pets for Human Health and Wellbeing", and Future Animals, Nature and Health, has been commissioned by the Rector to compile SLU's activities in the area. On April 26 there is a Kick-off for SLU's Platform for Aquaculture (SPA).
Unfortunately, we did not get the first European animal welfare center that we for so long have been working on. Just before Christmas, we started the Scientific Council for Animal Welfare (proposed in the National Food Strategy), which will be led by Lotta Berg in collaboration with 12 other SLU researchers in different disciplines. Their mission is to constitute a risk assessment body for animal welfare and to identify, compile and evaluate scientific research on animal welfare and related issues, such as production economics and work environment, on behalf of, for example the Department of Agriculture.
This year it is also time for the election of the new faculty board and in less than a year you will have a new dean in place.
Sincerely,
Kristina
---
Contact

Page editor: charlotta.lantz@slu.se