Dean's letter from Anne-Marie Dalin: Dear employees at VH!
Published: 18 December 2017
Another year is soon coming to an end. Time seems to go faster and that's probably the same situation for all of us - we do not suffer from too little work.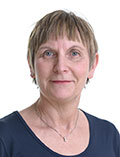 Anne-Marie Dalin is Professor at the Department of Clinical Sciences and Vice Dean, responsible for education at the Faculty of Veterinary Medicine and Animal Sciences.
In education, my area of ​​responsibility, a lot has happened during the fall.
As always at the end of the year, there are a number of course syllabuses for the next academic year to be decided by the program education board. This year we have had a total of about 70 so meetings have been long.
By the end of September we had a group from the EAEVE (European Association of Establishment for Veterinary Education) evaluating the veterinary program. Their preliminary assessment then was "Conditional accreditation". As we were informed last week, the final assessment was changed to "Non accreditation". We will appeal this decision because we see in the report factual errors and misconceptions. A new information meeting will be arranged January 26th.
The SLU Board decided in November that a new resource allocation system, from the board to program/program groups, will be introduced from 2018. The system is based on a 7-degree classification by subject content. Animal Science (husdjursagronom) and Ethology & Animal Protection programs now belong to the class "Natural Science/Technical Program" (85% Natural and 15 % Social Science) and the Sports and Pets (SoS) to the class "Mixed programs with a focus on natural sciences" (65% of Natural and 35% Social science). For the 'veterinary nurse' (DSS) and the veterinary programs, there will be no changes 2018 as the central planning unit at SLU will investigate the costs of the infrastructure.
Work is underway to increase student recruitment to the animal science programs, especially 'husdjursagronom' and SoS, and for all programs a broader recruitment. We will have a student-driven "#PluggaDjur" campaign from January to mid-April (we copy NJ's "#PluggaHållbart"). The campaign consists of students making daily comments on Facebook, Twitter, Instagram, Snapchat, etc. In addition, short films will be posted to students and alumni every week on Youtube.
There is a high demand for licensed veterinary nurses (DSS). This autumn we have enrolled 80 students, an increase of 100% since 2014. Now there is a requirement that we should increase the admission to 100. With this increase, there will be 300 more students than the VHC was planned for. Therefore, we have launched an impact assessment, including premises, educational animals, VFU, KTC, economics, coordination with the veterinary program. Hopefully the work will be completed in April.
"#Metoo", which has received much attention since October, shows how urgent it is that in our daily work we are not silent, but speak up if someone is being harassed or being bullied. It includes both employees and students. Respect for each other is a part of SLU's values. In their blog, our vice chancellor and deputy vice chancellor have called on all to actively discuss issues including 'unhealthy' structures and cultures. VH's management will actively address the value bases we want to apply in our faculty on gender equality in 2018.
Finally - a big THANK YOU for the passed year to everyone at VH who struggles and in various ways contributes to VH's teaching.
I wish everyone a Merry Christmas and a Happy New Year and that you get some nice and relaxing days before reality starts in 2018.

Anne-Marie Dalin
---
Contact

Page editor: charlotta.lantz@slu.se