Public 360 closed for upgrading 16th to 17th September
Published: 14 September 2021
Public 360, the case and records management system at SLU, will undergo a substantial upgrade during September. There will be a more modern user interface, a new search function, and it will be possible to use other browsers than Internet Explorer.
Public 360 will close Thursday 16 September at 4pm. From that time onwards, the system will no longer be available. Public 360 will also be closed all day Friday 17 September.
During this time, you will not be able to use Public 360 to register new cases or documents, search or log on to view your own documents and cases. The new version of Public 360 will be online as of Monday morning 20 September.
New client
From the closing onwards, a new client for the Office Plugin, the integration with the Microsoft Office suite, will be distributed. To have it installed, you need to be logged on via VPN, or on site at SLU.
Check in files before 16/9 4 pm
If you have checked out any files in Public 360, you need to check them in before the system closes on 16 September. Even if you haven't worked with your files in Public 360, files can still be checked out. This can be the case if you, unintentionally, opened them in edit mode instead of view mode and an error then occurred when you closed the file. This is only relevant if you have viewed your own files in Public 360, and if you have the RA role and rights as a registrar in the system. If you have only viewed other users' files, e.g. minutes from meetings, you will not have been able to check them out.
Here you find your checked out files
To see if you have any checked-out files, log on to Public 360 and click Checked out files in the left column (image 1).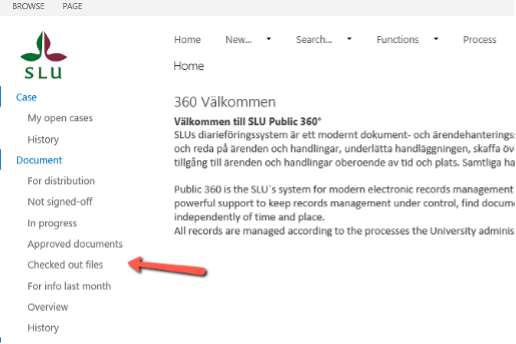 You will then see any checked-out files listed and can choose to check them in again or undo (cancel) the editing (image 2).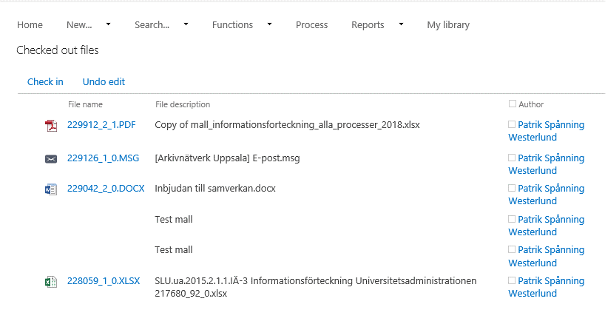 If no files are listed here, you have no checked-out files.
If you are logged on as a registrar, you need to change your active role to caseworker to see the checked-out files (image 3).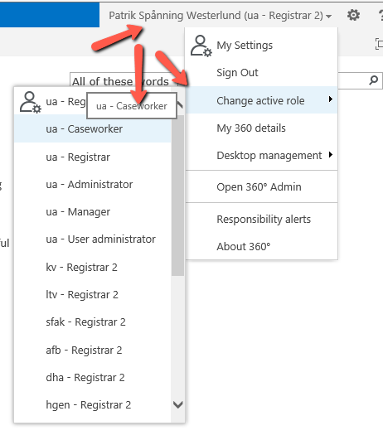 ---
Contact