Transdisciplinary research in plant pathology wins award
Published: 18 November 2021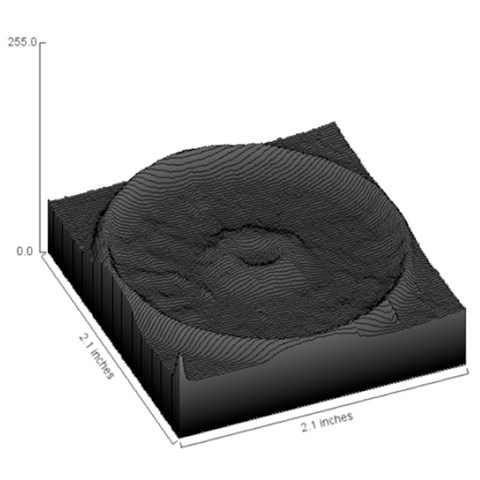 Phenomics is a relatively new transdisciplinary research area where you try to capture large amount of image data to understand all sorts of biological phenomena. In his master thesis, Eric Javier Prendes Rodríguez has used this technology to investigate plant pathogens. The thesis has received an award at the Polytechnical University of Valencia, Spain, for outstanding achievements as it can help finding new ways to protect crops from harmful diseases.
Is this a photo of the moon surface? No, it is a pseudo-topology analysis of Nenectria ditissima, a devastating plant pathogen that produces deadly cankers on apple trees, and many other orchard and forest trees.
– The work was done by a talented student from the Erasmus Mundus program Eric Javier Prendes Rodríguez, under the supervision of Salim Bourras, and Heriberto Vélëz from SLU, with the kind contribution of Ana María Fita Fernández at the Polytechnical University of Valencia (UPV) in Spain, says Salim Bourras, Associate Professor at the Department of Forest Mycology and Plant Pathology.
A thesis awarded for outstanding achievement
For this work, Eric received the 'Matrícula de Honor', the highest distinction for an MSc thesis from UPV to highlight outstanding achievements.
– Indeed, this strategy might offer a whole new panel of possibilities to approach problems in phenomics with deep learning which is also a new transdisciplinary field of science where powerful computer and artificial intelligence are trained to 'think' and solve very complex scientific problems. The keywords here are 'feature extraction' and 'reduction of data complexity'. These are simply technical terms to explain two of the main challenges to make sense of very large amounts of data (images and numbers), and that is to be able to extract complex information (see the unseen) without making things more complicated, says Salim.
– We are very thankful to Dr. Kerstin Dalman at SLU and Dr. Marion Müller at the University of Zurich for providing the raw image material we used for this work, says Salim.

– We plan to use similar approaches in other plant and microbial systems, in particular cereal crops, in current close collaboration with colleagues from Switzerland, Germany, and Italy. Hopefully, this will be an opportunity to strengthen the phenomics community at SLU and support breeders and farmers in Sweden and globally.
– In another part of this MSc project, together with Eric and collaborators from the University of Zurich, we swiftly managed to automate the phenotyping of thousands of wheat samples infected with a fungal pathogen using deep-learning, and together with colleagues from Germany, we aim at putting this technology into practice, says Salim.
Why is phenomics important for future agriculture?
– You can imagine that creating a better crop that would withstand diseases and climate change is like assembling a very large puzzle in a very big and completely dark room. With classical technologies, it would be like lighting a match every time you need to find a piece, which is tedious and challenging. With phenomics, it is like now you have full lights on the sealing that illuminate every corner of the room, allowing you to find pieces more rapidly, plus now you have also a better idea about the picture you are assembling, concludes Salim.
---
Contact
Salim Bourras, PhD
Associate Professor in Plant Pathology
Department of Forest Mycology and Plant Pathology, SLU
salim.bourras@slu.se, 018-671617