Distance teaching – our experiences so far
Published: 08 May 2020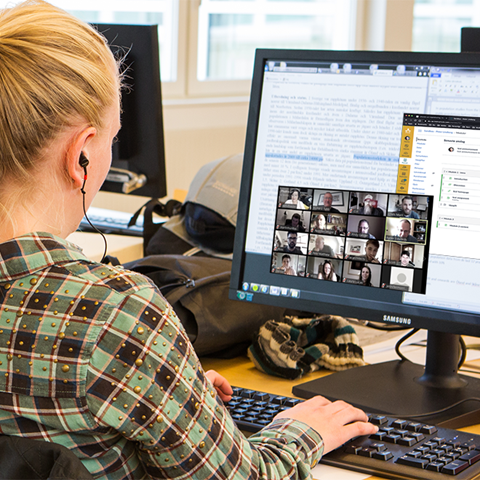 It will soon be two months since we made the transition to distance teaching. The transition was quick and smoother than expected. Distance teaching is different, and in the long run can feel burdensome or even boring, for teachers as well as students.
From the students' unions, we know that some students find it is working fine, offers them improved flexibility in absorbing teaching in a way that suits them. Others find the isolation and loneliness have a negative impact on their motivation, performance and mental health. Likewise, teachers have both positive and negative experiences from the transition to distance teaching.
What can you do?
– Tips for programme directors of studies and department directors of studies: Let teachers and students meet on Zoom for an exchange of information and to inspire each other. Directors of studies can arrange meetings for teaching staff, or encourage course coordinators to set up regular meetings for exchanging experiences – what has worked well, or less well, how do others organise their work, what do students think, etc. Perhaps a meeting with teachers from several SLU sites or faculties could be extra interesting and instructive? If necessary, ask the Division of Learning, Media and Digitalisation for support.
– On the new webpage Teaching online, you will find information for teachers. There are suggestions for how to think from a teaching point of view as well as information on the systems and tools available to support online teaching.
– The Division of Learning, Media and Digitalisation also has a virtual meeting room, Educational development support online, where staff from the Educational Development Unit, together with systems and media experts, are available every weekday to answer questions on online teaching.
– There is also a discussion forum on the SLU learning platform Canvas, where teachers can discuss and exchange tips and ideas on how to make the transition from traditional classroom teaching to teaching online.
– Students who are experiencing mental health issues should be referred to the Student Health Centre. If you want information on the students' thoughts on distance learning in general, you can contact Sluss: sluss@slu.se.
– If you need more support creating a beneficial social and learning environment online, contact the educational development officers at epu@slu.se. For questions on Zoom, Canvas and other software, contact utb-system@slu.se.
---
Contact