SLU news
Swedish Food Industry course in Lund
Published: 05 November 2018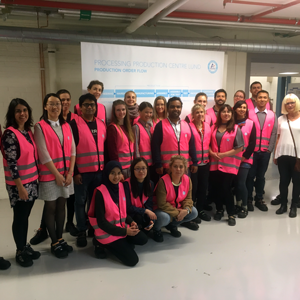 Five PhD students from the Department of Molecular Sciences attended the course "Swedish Food Industry" in Lund from 29th October to 1st November 2018.
The course was organized by the national graduate school LiFT (Future Technologies for Food production). An overview of the organization of the Swedish food actors were given. That included food policy in Sweden, market strategies, packaging logistics in a food supply chain, R & D activity in the food industry and much more. A study visit to Tetra Pak, a multinational food packaging and processing sub-company of Tetra Laval, was included.
Various speakers from Swedish food industries and academia delivered lectures during the course. Some of them are former LiFT PhD students.



– We learned how Swedish food industry has developed over the past decades, we discussed challenges and innovative solutions. This course indeed was an important component of my PhD study, says LiFT PhD student Hasitha Priyashantha, one of the course participants.
– Having just started my Ph.D. I think that attending the LiFT course about the Swedish food industry was the perfect introduction! The course was very well structured, with interesting lectures given by professionals working with food; politics, research, marketing, production etc. The course was very interactive and I feel I have come in contact with both people of the current and future Swedish food market. I already had an appetite for learning but this course has really been inspirational to me starting my Ph.D. whilst also providing a good understanding of the Swedish food industry. In the future, I will definitely try and attend as many LiFT courses as I can, says Klara Nilsson, one of the new LiFT PhD student from Department of Molecular Sciences.
The next LiFT course "Food ethics and legislations" will be hosted by SLU in May 2019.
– We are happy to welcome LiFT PhD students in Uppsala! I hope that the course will attract many participants, says Associate Professor Galia Zamaratskaia, one of the study directors for LiFT from the Department of Molecular Science, SLU.
---
Contact
Galia Zamaratskaia, Senior Lecturer and External Collaboration Specialist
Department of Molecular Sciences, SLU
galia.zamaratskaia@slu.se, +46 18 67 20 05