SciFest 2022 is cancelled
Published: 11 January 2022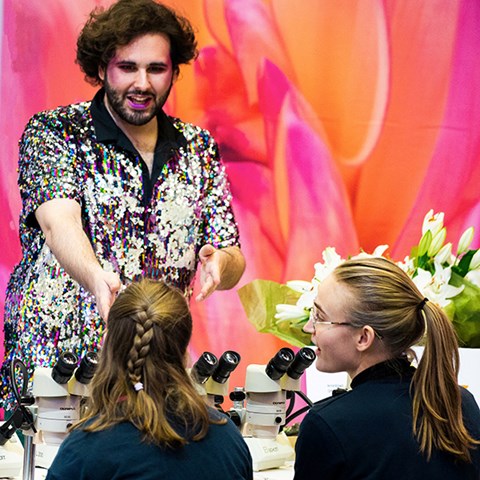 Uppsala University and SLU will cancel SciFest in March. SciFest is a crowd of curious visitors and enthusiastic researchers. It is a smorgasbord of experiences. An arena for questions and discussion. The SciFest team finds that it is impossible to carry out an infection-proof event with a SciFest feeling under the current circumstances.
"It was a really tough decision to make. Especially since the interest from the researchers was exceptional this year! We also intended to invest extra in the 10-year anniversary", says Katarina Holmborn Garpenstrand, project manager of SciFest.
SciFest started 2012. Last year it was digital and reached new target groups throughout the country. Early this autumn, the SciFest team decided to invest entirely in the physical event at Fyrishov, which is still SciFest's core. But since then, the covid-19 situation has changed.
"We have investigated different alternatives how to follow the restrictions and create a safe and good SciFest. But in the end, we didn't think any of the alternatives worked", says Katarina Holmborn Garpenstrand.
The SciFest team wanted it to be an attractive event that would not feel too limited for visitors and exhibitors. The Wow feeling is important! However, it is of course absolutely central that it is and feels safe for everyone present.
"Now we hope that everyone who wanted to join this year registers for SciFest 2023 instead. We had many interesting activities from SLU, including several new ones", says Anna Lundmark, proect leader for SciFest at SLU.
Hopefully the situation with infection rates is better in March.
"SciFest is a big event that takes time to rig. It is not possible to be open to all possibilities for too long", says Katarina Holmborn Garpenstrand.
---
Contact