SLU organized a webinar on "Perspectives on Higher Agricultural Education and Rural-to-Urban Migration in Egypt"
Published: 17 November 2020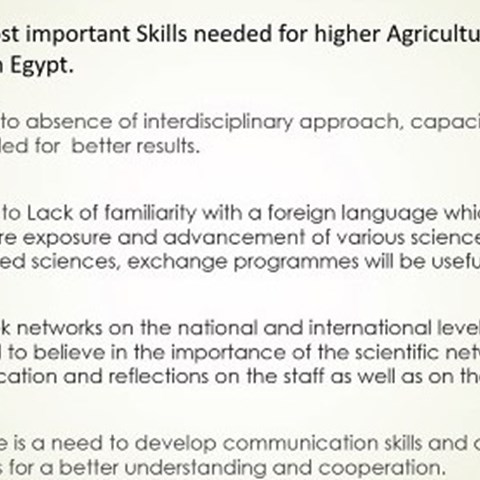 On the 28th of October 2020, SLU organized a webinar on higher agricultural education and rural outmigration in Egypt. The webinar is part of the activities of an EU co-funded Erasmus+ Project (DeVilag), titled "Steering Migration through Sustainable Development: Euro-Egyptian Program for Agriculture and Rural Development".
The aim of the webinar was to disseminate the results of the project activities carried out by the SLU team, which assessed the skill gap and training needs of the teaching staff of DeVilag partner universities in Egypt.
The webinar brought together around 30 participants from Egyptian universities, higher agricultural institutions and research organizations, and non-academic stakeholder groups. During the webinar, Assem Abu Hatab (the project coordinator at SLU) introduced DeVilag and presented the role and activities conducted by the SLU team. Next, Ebba Engström (research assistant in DeVilag) presented the main findings of the training needs' assessment. Following these presentations, Dr Hala Yousry (a professor at the Desert Research Centre in Egypt) and Dr Ayman Zohry (an adjunct Professor at the American University of Cairo and the president of the Egyptian Society for Migration Studies), reflected on the results of SLU activities, and presented their visions regarding the future of rural development and rural migration in Egypt. In the last part of the webinar, the participants engaged with the speakers in a moderated discussion, which focused on rural development and migration challenges. The discussion provided useful insights from stakeholders and end-users perspectives, which will help the SLU team design and implement a capacity-building program, in collaboration with the DeVilag partners, to equip the teaching staff of the Egyptian partner universities with knowledge and pedagogical skills and enable them to address different dimensions of sustainable agricultural and rural development.
About DeVilag: the project aims to support the Egyptian rural community with qualified graduates, who can improve agricultural productivity and enable furthered sustainable food production. DeVilag is a collaborative project between European and Egyptian universities. The European universities are RWTH Aachen (RWTH) in Germany, the Swedish University of Agricultural Sciences (SLU) in Sweden, and the University of Nicosia (UNIC) in Cyprus. The Egyptian partner universities include Cairo University, Fayoum University, Heliopolis University and the American University in Cairo. More so, the project involves other relevant stakeholders and end-users in Egypt (Bibliotheca Alexandrina, Agricultural Research Center, Lotus for Organic Products, and ISIS for Food Industries LTD).
---
Contact
---
Links: