The staff survey is back!
Published: 18 January 2021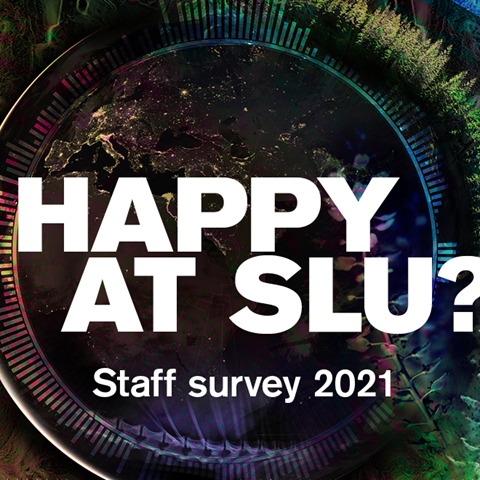 The 2018 Staff Survey resulted in an array of activities aimed at improving employee satisfaction and the work environment at SLU. Now it's time for the follow-up and once again you can help make a difference.
Tomorrow, on 20th of January, all SLU employees will receive an e-mail from SLU/Quicksearch (SLU.medarbetarundersokning2018@mail.quicksearch.se) including a personal link to the survey. It should take approximately 20 minutes to complete.
It is important that as many people as possible respond
The survey results will create a valuable guide for continuing development and work environment management – provided enough people respond. The last survey generated a 74% response rate and we should aim to match this. The higher the response rate, the more useful the results will be. Everyone has a responsibility to prioritise participation and encourage others to respond.
The Division of Human Resources conducts the staff survey on behalf of university management.
Vice-Chancellor Maria Knutson Wedel emphasises the importance of the survey that contributes to the university's strategic targets:
As previously, the aim is to come together and create a work environment and conditions that place us among the top higher education institutions for research and employment. The staff survey is an essential tool in the work to bring about change; data that shows change forms the basis for further planning and is a way to show how efforts are progressing. 2020 was an unusual year, which in itself provides reason to gather statistics on how our work environment has been affected.
Are you happy at SLU?
The staff survey is a way to find out if staff are satisfied with life at SLU and what they think about their workplace. It has been divided into four sections:
Work climate
Leadership
Organisation
Goals and strategy
Sharing the results
University management will receive the results of the survey in the week beginning 15 February. The results will then be presented to the rest of the university later that month and throughout March. A schedule of the presentations for each faculty/equivalent will be published on the staff web. Managers are then expected to forward the results to their employees. Managers must also work together with their employees to continue activities with systematic work environment management.
---
Contact
---
Information

Page editor: anette.neldestam@slu.se