HUV in media
Last changed: 24 October 2023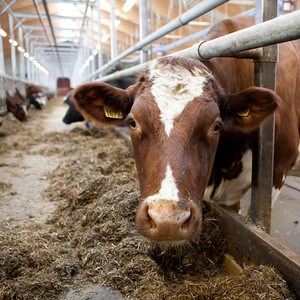 New posts from media:
Algae feed for reduced methane emissions - the solution we've been waiting for? Rebecca Danielsson and Sophie Krizsan participates in the podcast "På lantbrukets hållbarhetsfront" around algae.
Earlier posts:
Fastare träck med biokol i ensilage. Article in the magazine Husdjur about Ida Milton´s master thesis. 2023-03-01. In Swedish.
Reindrift-ekspert ser ingen løsning: − Det måtte være at vindmøllene tas ut av drift. Interview in Norwegian VG with Anna Skarin.
Ingen mjölkminskning med längre laktation. An article in latest issue of Husdjur magazine, by Anna Edvardsson Rasmussen about her PhD project, INDILACT. (In Swedish).
The newspaper Syre has interviewed Mikaela Lindberg about algae and methane just before Christmas. They have also interviewed others in the algae field so the article gives a pretty good picture of the complexity of this issue.
Algae feed that reduces methane emissions – salvation or false solution?
Equipodden, avsnitt 131, intervju med Cecilia Müller (16 november 2022):
Cecilia Müller - Forskar på hästens foderbehov
Artikel i Jordbruksaktuellt (sammanfattning av föredrag på Borgeby):
Vallfodret är det absolut viktigaste fodret för alla hästar
Artikel i Jordbruksaktuellt:
Sockerhalten i vallfodret viktigt, framförallt för insulinresistenta hästar
Artikel i Hippson:
Trygg övergång från vinterutfodring till grönbete
Artikel i tidningen Ridsport med Cecilia Müller:
"Docenten: "Uppfattningen är att fler hästar än tidigare har ett överhull""
New cow feed will reduce climate-hazardous farts. Interview in P1 Morning with Rebecca Danielsson. Sveriges Radio.
Rebecca Danielsson have been talking about cows and methane with Christian Olsson on P4 Extra. Om du väljer klippet med musik så startar intervjun vid tiden 1:31:55, utan musik startar den vid 0:44:03.
Räddad kvalitet med högre stubb. Article in Lantmannen, no. 4, 2022. Torsten Eriksson. The article is found in a folder at Arbetsplatsen (read, but don´t spread it further)
Forage – an interesting feed alternative to pigs (in Swedish). Article by Johanna Friman in Grisföretagaren, no. 1, 2022.
Nya flugan – prima foder för fina fiskar. Larver blir klimatsmart mat för odlad regnbåge. Article in Aftonbladet January 12, 2022. With Anders Kiessling.
Biokol liten men intressant del av klimatfrågans lösning. Article in Land lantbruk no. 49, December 3rd, 2021. With Torsten Eriksson.
Vindturbiner ger renar respit mot rovdjur och insekter. Sameradion with Anna Skarin.
Et si on ne séparait plus les veaux laitiers des mères? Article from Radio Canada in French about cow calf project with Sigrid Agenäs. Scroll down towards the end of the article.
Förtjänar svensk kyckling rött ljus? Debate article in SvD by Helena Wall and Ingrid Hansson from SLU and Oskar Nilsson and Désirée Jansson from SVA.
Studier om ljus ska ge välmående djur. Article and interview with Sofia Lindqvist in Land lantbruk, week 44.
Skogen - kornas räddare i nöden. TV-episode in Lantbruksnytt November 3 with Torsten Eriksson.
Dog food has become a global giant industry - "Nothing is good enough" with Hanna Palmqvist
Guide - the real content of your dogs food, article in Expressen with Hanna Palmqvist.
Cows ate and milked more with extensively processed silage.
Article in Husdjur, no. 9, page 29-30. By Bengt-Ove Rustas and Torsten Eriksson.
Kraftigt höjda priser på kraftfoder leder till andra alternativ
Torsten Eriksson was interviewed in P4 Kalmar, 2021-10-11
Skadlig propaganda mot kött och mjölk
Debate article in SvD with Sigrid Agenäs and co., 2021-09-30
Grass can make organic pigs greener
Article with Johanna Friman in Land Lantbruk, no. 39, 2021-09-24
Mjölkveckan 2021: Hur kan mjölknäringen bidra till ett hållbart livsmedelssystem?
Se föreläsningarna i efterhand, på Youtube
Mikaela Lindberg participates in Lilla Aktuellt (SVT) and talks about the possibility of toilet training dairy calves, according to new findings from German researchers.
Se inslaget i Lilla Aktuellt från SVT Play (in Swedish)
---
Contact