Completed Tag-along journeys
Last changed: 11 November 2022
2019
Egypt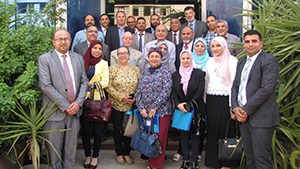 Assem Abouhatab
Climate-induced migration in developing counties: the interlinkages between climate change, food insecurity and migratory movement in Egypt: The aim of this project was twofold: i) to develop a 'research network' with a selected group of Egyptian research institutes and stakeholders in areas of climate change, food security, and migration; and, ii) to conduct an exploratory study on the interlinkages between climate change, food insecurity and internal migration in Egypt.
In the long term, achieving these objectives was envisaged to strengthen the project coordinator's collaboration with Egyptian research institutions and build a consortium for submitting grant applications to relevant calls for proposals.
Ethiopia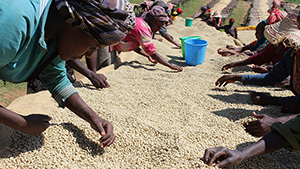 Birhanu Adamie
Building Sustainable and Resilient Coffee Sector in Ethiopia: The project aimed to create collaborative partnership with relevant research institutions in Ethiopia and conduct a pre-study survey to identify intervention areas on how to improve the resilience and sustainability of the coffee sector in Ethiopia.
Furthermore, we aimed to develop the agenda for future project applications on the issue, by examining the economic/market challenges in the sector with implications on the biodiversity protection and livelihoods of farmers, and on how to improve the farmers' strategies and capability for climate change adaptation.
Accordingly, we have conducted interviews with different authorities in the Coffee value chain and household level survey on coffee farmers in five villages of three districts in the Sidama coffee-growing region of Ethiopia beyond establishing partnerships with stakeholders.
South American Andes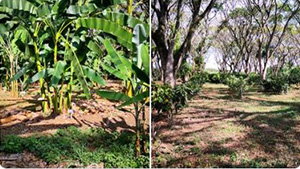 Jose Fernando Gil Ramírez
Pomoviruses infecting potato in the South American Andes, epidemiological risk and assessment: Initiation of collaborations took part with the two institutions objective of the travel. First, Politecnico Colombiano Jaime Isaza Cadavid (PCJIC), the laboratory of Dr Elena Paola González, hosted me as visitor.
There I had the opportunity to engage in discussions at different levels and interact with both researchers and students regarding virology problems in commercial crops in the country. After visits to PCJIC, CIAT and CES, it was possible to identify different ways to investigate the effect pomoviruses infecting potato in the Andes have on cultivated varieties.
Additionally, the support from CIAT and their experience on epidemiology of plant viruses has strengthen the reach out of the project. We hope to visit again these institutions to keep our relationships tight and objective directed. Some of the experiences were captured and shared on my twitter account @josefergil
2018
China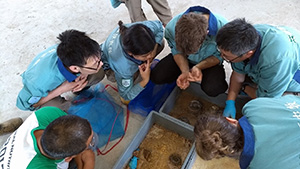 Cecilia Lalander and Evgheni Ermolaev
The main aim was to set-up a collaboration network necessary to take the first steps towards the establishment of a functioning organic waste treatment facility under the management of Open Range LTD in China.
Rwanda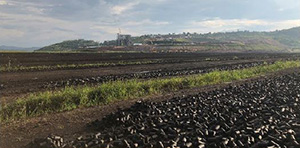 Örjan Berglund
The purpose of my trip was to visit researchers and doctoral students in the College of Agronomy, Animal Science and Veterinary Medicine to build a new network with these researchers and also discuss any research collaborations focusing on greenhouse gas emissions from the ground. In addition, I was interested in visiting the newly established peat extract in southern Rwanda that was recently started and which will be used in a power plant that is also being built on site.
Indonesia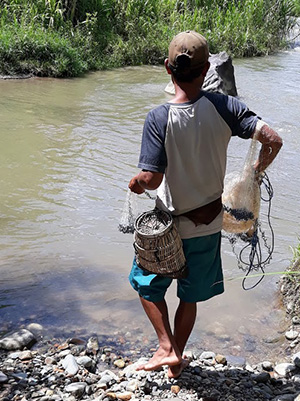 Anti Vasemägi
I was able to provide and share my expertise on how to establish efficient and modern DNA analysis laboratory even with rather low available budget focusing on most cost-efficient and informative analysis techniques. Also, I was able to provide advice on several ongoing issues at the lab involving low quality DNA analysis possibilities and how to overcome challenges with contamination.
Mozambique
Massimiliano Cardinale
Capacity building at SLU, Sweden and IIP, Mozambique on the use of tagging information for the sustainable management of fisheries resources.
South Africa
Jenna Senecal, Prithvi Simha and Annika Nordin
Establishing SLU-Durban network on sanitation research exploring field-testing and Implementation of urine dehydration in South Africa.
2017
Sri Lanka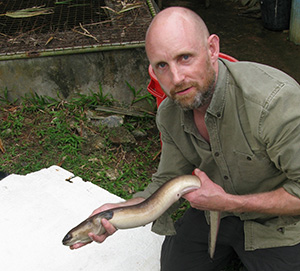 Håkan Wickström and Niklas Sjöberg
This project aims at reopening a collaboration with a Sri Lankan University on eel ecology studies applying more modern techniques than in the 1980s–1990s when a collaborative project on eel was run by the first applicant and his Sri Lankan counterparts. The plan was now to meet with Professor Cumaranatunga at the University of Ruhuna in Matara and together with her staff discuss and investigate the possibilities to start a full three-year research project on eel in Sri Lanka along the ideas presented above and in light of a more threatening situation for eels worldwide, with participants from both the University of Ruhuna and SLU. A research plan was produced and conceivable funding agencies were decided upon.
Vietnam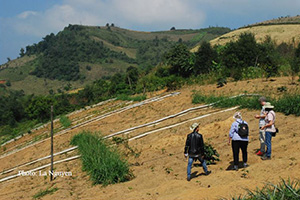 Sigrun Dahlin och Göran Bergkvist
The aim of the tag-along project was to enable the proposed supervisors from SLU to get together with one of the candidates, Mr Do Van Hung, the nominated Vietnamese supervisors (Dr La Nguyen, ICRAF, Dr Rachmat Mulia, ICRAF; Dr Vu Manh Quyet, SFRI) and the AFLI project team and partners in a joint workshop and field trip in NW Vietnam. The outputs from the workshop and field visit was meant to form the platform for joint proposals to the Swedish Research Councils Formas and VR 2018, create a net-work between Swedish and Vietnamese scientists including ICRAF (where Mr Hung's PhD will be an essential component/starting point) and provide the SLU researchers with experience from Southeast Asia in general, and from Vietnam and the upland field sites in particular.
Kenya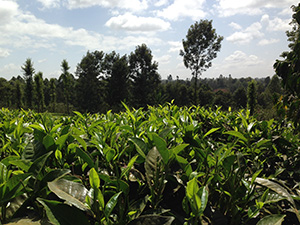 Suvi Kokko
The initial plan for this project was to visit Kenya together with my new cosupervisor, Klara Fischer (Department of Urban and Rural Development), and Dr Annika Nordin (Department of Energy and Technology) to develop new networks with local researchers involved in the agriculture component of Peepoople, and to simultaneously perform some additional fieldwork for understanding agriculture and how the benefits of the Peepoo-bag can be extended beyond its first-hand users to also include farmers. The aim was to meet with researchers and practitioners involved in the research and development of the Peepoofertilizer, its commercialization and to learn about the local context, its challenges and opportunities as well as current methods used.
Argentina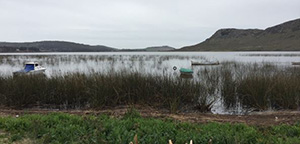 Mirco Bundschuh
The project aimed at intensifying collaborations with colleagues from the Universidad Nacional de Mar del Plata and the Universidad Nacional de Córdoba, which are located in the Provinces of Buenos Aires and Córdoba, Argentina, respectively. Thereby we focused on the impact assessment of two dominating land uses, i.e. agriculture and urban land use, on aquatic ecosystems through seminars, PhD courses, field trips and face-to-face discussions. The trip has allowed the applicants to exchange ideas and develop the basis for future collaborations, while one recent effort to attract external funding for this purpose was unfortunately not successful. Nonetheless, this Tag-Along project allowed the applicants to develop a much deeper insight in the local environmental situation helping to understand the local needs that will now be shared with colleagues interested in aquatic environmental (risk) assessment.
Kenya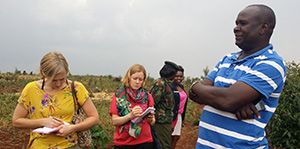 Klara Fischer
This Tag-along project aimed at 1) broadening my network and research competence to Kenya and the sanitation sector, 2) increasing my understanding of PhD Suvi Kokko's empirical material (as I was new to her supervisor group), 3) strengthening my competence as a research leader and 4) facilitating the dialogue between research and practice in global development with focus on sanitation.
2016
Ghana
Justice Tei Mensah and Franklin Amuakwa-Mensah
The focus of the proposed project was to formulate a long-standing partnership with ISSER to develop, a collaborative research proposal on "Nudging for Sustainable Agriculture: Experimental Evidence on the Effects of Green Nudge" for on-ward grant applications to funding agencies. The tag-along candidates planned to visit ISSER in this regard. In addition, successful execution of this project was intended to offer the tag-along candidates the opportunity to conduct cutting-edge research and also learn from the experiences of top researchers in the field. The activities of the project are expected to result in a research agenda on the role of behavioral interventions in changing the attitudes and behavior of vegetable farmers to produce sustainable yield under hygienic conditions.
Jordan
Sahar Dalahmeh
The objective of this project was to perform a scientific visit to the Royal Scientific Society and other universities in Jordan to build a network for cooperation in research and education with researcher from the Middle East. The focus of the research was wastewater treatment and pharmaceutical pollutions as well as use of biochar for onsite wastewater treatment
2015
Vietnam
Anke Herrmann
Arsenic is a harmful element and has become recognized as a worldwide health problem causing chronic poisoning and elevated cancer risks. The Mekong Delta in South-East Asia is an important rice-producing region, but the paddy soils contain naturally occurring arsenic in many areas along the Vietnamese-Cambodian border. Biochar amendment to paddy rice soils has been proposed as a potential mitigation strategy. Yet, the use of biochar is not routinely used in the Mekong Delta and its benefits vary significantly among soil systems. In March 2016, I visited the Dept. of Soil Science at Can Tho University, Vietnam to discuss mutual research interests. During my stay, I also visited two provinces in the Mekong Delta and interviewed, with the support of my host Do Thi Xuan, rice-farmers inquiring current rice-management practices. In the future, Xuan and I are planning to develop an application within the Linneaus-Palme Exchange Program and research applications are currently pending for evaluations.
Tanzania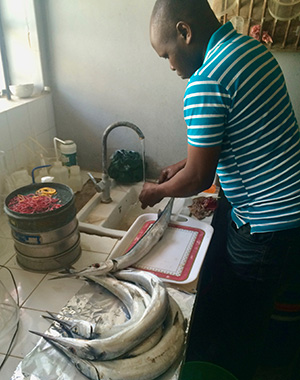 Mattias Sköld
The purpose of the visit to Tanzania was to develop collaboration with the project "Fish, fisheries and climate change" and the network of the Sweden‐Tanzania Bilateral Marine Science Programme that has been ongoing since the 1980s. My involvement is to co-supervise two Tanzanian PhD students, Said Mgeleka and Mathew Silas. Our trip was successful in several ways but the best was that I got the opportunity to work closer with the students and learn about the artisanal fisheries in Zanzibar. In particular we visited several fish markets and identified species for Saids study on connectivity between coastal and offshore habitats. We did some initial sampling that now has been analysed further in Sweden and Germany by the student. I also got to know scientists at University of Dar Es Salaam, Institute of Marine Sciences, Zanzibar, and discussed further collaboration.
Sri Lanka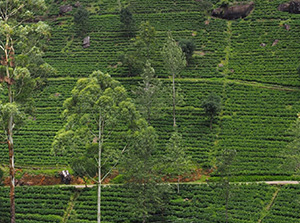 Monika Johansson
The program was aimed to build up long-term co-operations where teachers and students can take advantage of both teaching and research resources of the two departments. This program was also expected to contribute to future international collaboration research activities and student exchange between the partners.
South Africa
Linley Chiwona-Karltun
Agrifood systems, nutrition transition and health in southeastern Africa.
Bolivia
Sahar Dalahmeh
The focus of the research was in the wastewater treatment and pharmaceutical pollutions. In addition Sahar carried out field visit to wastewater treatment plants and agricultural field irrigated with wastewater in Cochabamba. This visit enabled the applicant to build her networks with researchers from CASA, Aguatoya and Swiss TPH institutes and made a plan to write a research application which focuses on studying the current wastewater treatment and recycling for irrigation in Cochabamba and their effects on pharmaceutical pollution and spread of antibiotic resistance genes.
Ghana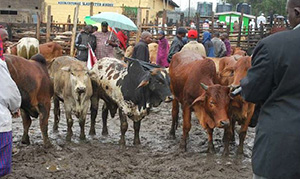 Samuel Aradom
Main aim of the visit was to:
build network with researchers on the area of livestock

acquire a wider perspective of livestock and welfare in Kenya that also represent livestock's conditions in East Africa and

explore the potential for future development of projects on welfare of livestock
Pakistan
Ranjan Ghosh
The tag-along candidate planned to visit ICRISAT headquarters in Hyderabad to develop a collaborative research proposal on 'Improving smallholder access to markets using the value chain approach'. The purpose of this collaboration between ICRISAT and SLU was to combine the knowledge and expertise of the involved researchers so that an internationally funded applied research project could be initiated. The project proposal was planned to be built around three tentative objectives: a) developing a comprehensive knowledge bank on the barriers to integration of small-holders in the key crop value chains of the semi-arid tropics, b) conceptualization and experimental testing of behavioral and organizational innovations which enable integration of small-holders, including Information and Communication Technologies (ICTs), c) developing a 'Handbook' on best organizational practices for small-holder integration in the semi-arid tropics.
Burundi and Rwanda
Libère Nkurunziza
The stay was a fact-funding within the Humitropics programme, a platform for discussion and a start-up of the writing process of collaborative research projects. We targeted resource management options for soil conservation/restoration and water use efficiency that would sustain food production of highland farming systems in central African Humidtropics regions. Despites significant rainfall in the region, the water is not optimally used to benefit crop production. Instead the rainfall causes soil degradation as a result of the geomorphology causing extreme soil runoffs associated with poor management practices. Our long-term objective is to contribute to the efforts made to circumvent soil degradation and to optimally use the available water for food production. Scientists and practitioners in the regions were visited to identify current and new resources management options in order to pave a ground for the evaluation of impacts on crop productivity, soil quality and income on short and long-term perspectives.
2014
Ethiopia
Flora Hajdu
The aim was twofold:
to network and identify collaborators in Ethiopia at both natural and social scientific institutions, and

to undertake a short pilot study in the field in order to understand to what extent viable research questions could be formulated for a joint project proposal.
2013
Vietnam and Cambodia
Ioannis Dimitriou
The project included a combined visit to Vietnam and Cambodia between 8–17 November 2014 to further develop existing cooperation with research groups from Nong Lam University (Vietnam) with focus on environmental and bioenergy issues (nutrient/wastewater recycling, biomass production, etc). The identification, development of relationship and exchange of research ideas for future project development with other potential relevant partners in both countries was also aimed.
South Africa
Klara Jacobson (Fischer)
The purpose of the project is to build networks for future research collaboration between Sweden (SLU) and South African Universities (North West University and Fort Hare), spanning across different disciplines (genetics, ecology and rural development). Since South Africa is the first and largest grower of GM staple crops in smallholder systems in Africa, collaboration with South Africa provides a unique opportunity for SLU in the form of access to field work sites and local competence with regard to GM crops in smallholders systems. The collaboration that this tag‐along project aims to initiate could also be of immense importance in bridging the current gap between disciplines regarding future use and usefulness of GM crops to smallholders.
Ghana
Samuel Aradom
The aim to visit, particularly, Kwame Nkrumah University of Science and Technology (KNUST), Ghana was to:
build a network with researchers on the area of livestock and welfare,

acquire a global perspective on livestock and welfare ( Ghana represents low income countries) and

explore the potential for future development project.
Ethiopia
Kevin Bishop
Mercury and the Lake Tana fischery.
---
Contact

Marnie Hancke
Research Officer
Faculty of Natural Resources and Agricultural Sciences, SLU
marnie.hancke@slu.se, +46 18 671181