Information material
Last changed: 07 June 2021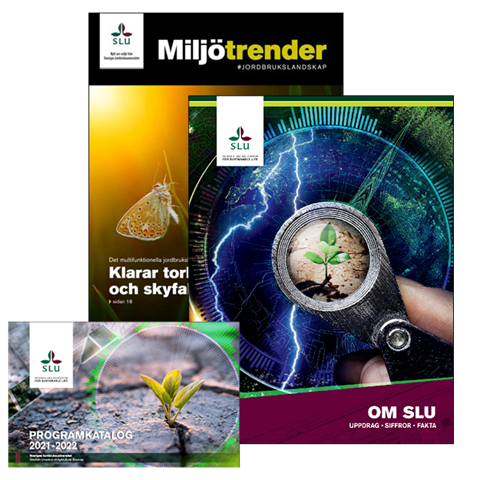 There is plenty of information material about SLU ready for use - printed material, Powerpoint presentations, pdfs and links to pages on the SLU web.
Presentations of SLU, in Powerpoint and pdf
Here are some ready-to-use Powerpoint presentations. Use them as they are or select some of the slides to complement your own.
Information about education
The international prospectus presents the degree programmes in English at the university and describes life as a student here. Available in print.
Academic ceremonies
Inauguration of new professors
The research of new professors is presented during lectures, followed by an inauguration ceremony. On the web page below, there are links to the presentations.
Doctoral award ceremony
Doctors who have defended their theses during the year and have been awarded their doctoral degree are celebrated, together with the honorary doctors elected by the faculties.
More useful information on the SLU web
---
Contact
---
Pick up places
Pick up or order the publications at the following locations:
Alnarp: Service centre, Sundsvägen 6, tel. 018-67 24 00.
Umeå: Service centre, Skogsmarksgränd 17, tel. 018-67 24 00.
Uppsala: Service centre, Ulls hus, Almas allé 8, tel. 018-67 24 00.

Page editor: varumarke@slu.se