Module 2
Last changed: 13 December 2019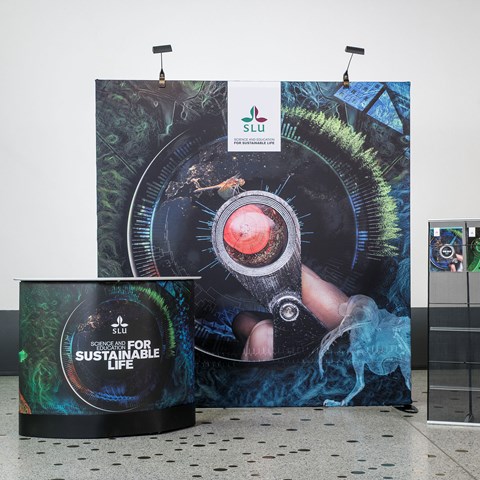 An easy-to-transport display kit – the Expand GrandFabric wall, with the Expand PodiumCase counter (with shelves on the inside).
The Expand PodiumCase doubles up as a transport box holding roll-up, spotlight and brochure holder – pack it all up and you are ready to go. The box will fit in the boot of an estate car.
Content:
GrandFabric, 232 x 240 cm one-sided
Spotlights for GF, LED
PodiumCase complete with white top
Brochure holder 50 cm
Weight incl. all material:
Dimensions with all materials packed in the PodiumCase:
Height: 98 cm
Depth: 45 cm
Width: 73 cm

The wall is easy to set up - just click the frame parts together, pull your fabric graphic over it and add the feet.
View a short film clip (58 secs) on how to set up the Expand PodiumCase.

The Expand PodiumCase can be used open as a counter or closed as a podium.
Open:
Height: 98 cm
Depth: 60 cm
Width: 124 cm

Closed:
Height: 98 cm
Depth: 45 cm
Width: 73 cm
Book to collect in Alnarp
Book to collect in Umeå
Book to collect in Uppsala
---
Contact

Page editor: Emma.Hallberg.Gardell@slu.se